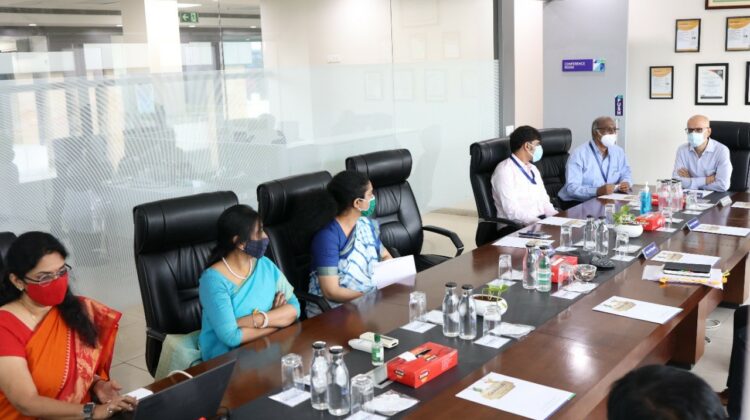 Globicon Terminals, Nhava Sheva proudly hosted Honorable Revenue Secretary of India Tarun Bajaj

---
MUMBAI : Globicon Terminals – a subsidiary of Teamglobal Logistics Pvt. Ltd and a leading CFS operator at Nhava Sheva is fast gaining popularity with the customers and has been consistently handling volumes as per its optimal capacity. The vision of the company is to provide  value -added services to the customers and augment its technological initiatives.
The company hosted Honorable Revenue Secretary of India, Shri Tarun Bajaj, IAS, on August 26th 2021. Shri Bajaj is an astute bureaucrat in the Ministry of Finance. After having worked as Joint Secretary, he was moved to the Prime Minister's Office (PMO).
Shri Tarun Bajaj was greeted by Mr. Jacob Thomas , Director – Commercials, ICTPL, Globicon Terminals and the management team of CFS which included Mr. Aniket Chedda- Director, Dr. Saamta Jain, Vice President- HR/IR and Admin and Ms. Sreeja Vasudevan, DGM- IT. He was warmly welcomed and was escorted by the team where he was felicitated and briefed by the management about Globicon Terminals and its operations. Mr Tarun Bajaj was accompanied by Chief Commissioner Rajiv Talwar, Commissioner V N Kulkarni and Additional Commissioner D Tripathi.
The visit was marked by an overview of the facility from the terrace of the Admin building from where Mr. Bajaj got an aerial view which made him understand and observed the complete facility and examined the Green Map to get an architectural insights of India's First Green CFS. Immediately after, Mr. Bajaj was taken through an overview of Globicon through a presentation by Mr. Jacob and salient features of the CFS facility was shared with him. The initiatives of the Globicon towards reducing the carbon footprint by using the solar energy was admired by Mr. Tarun Bajaj.
Shri Tarun Bajaj also came with a clear agenda and he swiftly visited the entire Globicon Terminals including Warehouses, Temperature Control Room, Export warehouse, LCL warehouse, FCL container yard and the Entry and Exit points and witnessed all the facets of operations. At all these locations he reviewed all the documents, examined stuffing and destuffing and other CFS functioning.
Shri Bajaj examined the CFS, it's functioning and interacted with the ground operations staff to understand the gamut of operational activities. He was very impressed with the overall planning and operations of the facility with whatever he witnessed. He also briefed the management with insights for development. The management and the entire team of Globicon Terminals paid their gratitude and were overwhelmed by Shri Tarun Bajaj's visit.
Mr. Jacob Thomas shared that it was a matter of extreme pride to welcome and host Mr. Tarun Bajaj, Hon'ble Revenue Secretary.and the esteemed delegates from Customs. This also instilled confidence in the team and Globicon Terminals is always ready to host such inspirational figures.
About Globicon Terminals:
Globicon Terminals, registered as International Cargo Terminals Pvt. Ltd., commenced its operations at Nhava Sheva in April, 2017. The CFS offers its services in EXIM, Consolidation, De-consolidation, Bonded and Haz.Cargo. It is committed to excellence in providing the services by setting new standards in providing logistics and warehousing solutions. With the state of art infrastructure it is fast gaining popularity with the users and has even consistently handling volumes as per optimal capacity.
It is the first cargo terminal of its kind to apply for Total Quality Management Systems to cover its operations, data security, health and occupational safety standards. The various certifications already conferred on to Globicon Terminals are ISO 9001:2015 for Quality Management Systems, ISO 14001: 2015 for Environmental Management Systems, ISO 45001:2018 for Occupational Safety Management Certification, ISO 27001:2013 for Information Security Management System, ISO 13485:2016 for Medical Devices, C-TPAT Customs Trade Partnership Against Terrorism and the most coveted AEO – Authorized Economic Operator by the Central Board of Indirect Taxes.
It is also the "Green CFS" with "Platinum" rating and the first ever CFS to obtain an IGBC certificate.
Source : Globicon Terminals
---