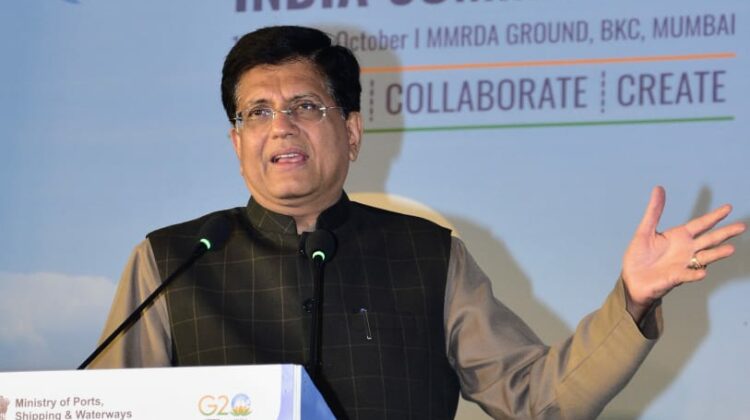 Government is planning to encourage traders to use Indian-flag vessels : Piyush Goyal
MUMBAI : Union Minister for Commerce and Industry Shri Piyush Goyal on Thursday said that the government is working on a plan to push for more Indian-flag vessels in fleets of domestic and global shipping lines and encourage importers and exporters to use them.
"Shri Sarbananda Sonowal (Union Minister for Ports, Shipping, and Waterways) and I will announce shortly a joint team of the shipping and the commerce and industry ministries to work out a roadmap to see how we can encourage a greater number of companies, domestic or international, to come to India and have a larger number of Indian-flag vessels," Goyal said at the Global Maritime India Summit 2023.
He added: "We'll be working out how we can encourage our importers and exporters to use Indian-flag vessels in the years to come."
On Tuesday, Prime Minister Shri Narendra Modi said that India aims to be among the top five nations in shipbuilding over the next 25 years.
The commerce minister asked the shipping industry to seriously deliberate and suggest to the Central and state governments what they could do to incentivise shipping lines to have more Indian vessels in their fleet. He added that the sector must focus on capacity building by bringing new technologies to India and leverage the skills offered by Indian seafarers.
According to shipping ministry data, the share of Indian-flag ships in India's export-import trade has steadily decreased from 40.7 per cent in 1987-88 to just 6.53 per cent in FY20. This has led to foreign exchange outflow.
Despite having long useful lives of 15-25 years, the shipping sector, comprising ships and floating vessels, have been kept outside the Harmonised Master List of Infrastructure sub-sectors — the proposal to grant this status is now being considered by an expert committee to increase the number of Indian ships going forward.
India had also announced a shipbuilding financial assistance policy to address the vacuum in Indian ship manufacturing. However, it has not found major success.
"The current incentives seem to have had a limited impact on attracting tonnage to the Indian flag. Further, the COVID-19 pandemic has disrupted almost every area of the shipping industry, after a promising 2019, with yard closures, logistical challenges, and other delays," according to the shipping ministry.
India needs a minimum of Rs 55 trillion of investment in infrastructure expansion for ports and vessel acquisition to meet its stated target for 2047. Currently, there are 1,800 Indian-flag vessels operating.
Meanwhile, the shipping ministry said that the summit ended with Rs 10 trillion worth of secured investments in the Indian maritime sector.