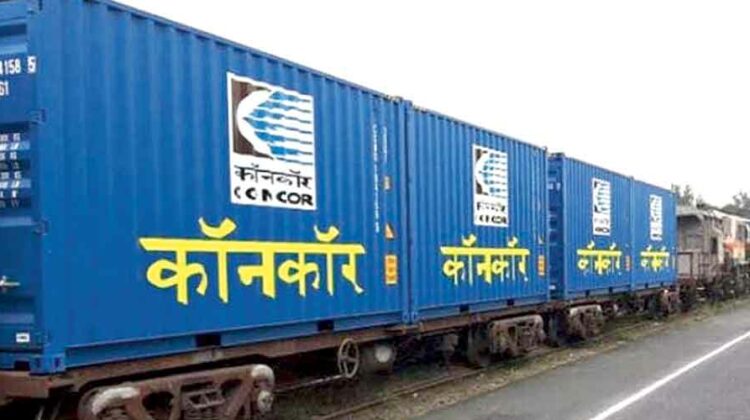 Govt unlikely to invite EoIs for CONCOR before July as internal processes still pending
NEW DELHI : The Centre is unlikely to invite Expression of Interest (EoIs) in Container Corporation of India (CONCOR) until the next quarter, multiple sources aware of the matter told.
A senior government official said that a few internal processes were still pending in the divestment of CONCOR.
"Unless the internal processes get completed, we cannot look at issuing EOIs for CONCOR. Can't say when will the EOIs for CONCOR be issued. Difficult to say if the transaction will get completed in this fiscal," the senior official said.
The divestment of CONCOR has been delayed after the government received limited interest from private parties for its 30.8 percent stake in the company, sources said. "Only three players had shown interest in bidding for the government's stake in CONCOR," an official aware of the ongoing developments said.
He added that the interest of private players had been diluted because confusion still remains around the railway land leasing policy CONCOR will adopt going forward.
Based on the company's current market capitalisation, the 30.8 percent stake is worth around Rs 12,000 crore.
Email inquiries sent to Concor and the Department of Investment and Public Asset Management (DIPAM) did not receive a response till the time of publishing.
New policy
The government in September had come out with a new land leasing policy after market participants raised concerns over the land licensing fees being paid by CONCOR.
CONCOR's Chairman and Managing Director V Kalyana Rama in January raised questions about the new land leasing policy and said CONCOR was not eager to switch to the new policy.
"The new long-term land leasing policy cleared by the Cabinet last year makes it very hard to balance the valuations of Concor," a senior official from a company earlier looking to bid for the government's stake in CONCOR said.
He added that until last year a few international funds in collaboration with the company had been interested in buying the government's stake in CONCOR. But now, those funds are no longer interested because the commercials don't make sense anymore, this official said.
Hindenburg report
The Hindenburg allegations targeting Adani Group also dented investors' confidence. Before the Hindenburg allegations, Adani Ports and Special Economic Zone was seen to be the primary contender for CONCOR. That is no longer the case.
The logistics giant had questioned the government's decision which said that the new land leasing rate of 1.5 percent of the market value of land per annum with annual escalation of 6 percent would be applicable only to new terminals that are built on Indian Railways land.
Rama had said CONCOR was not keen to first surrender their terminals and then subject them to bidding.
CONCOR currently runs 61 inland container depots (ICDs) of which 26 are built on land leased from Indian Railways (IR).
These 26 terminals account for more than half of the annual revenue of the company.
CONCOR had also said that the new lower land lease charges cannot be taken as the "right substitution" for comparing the land licensing regime that is more favourable and beneficial to the firm ahead of taking a call to shift to the new policy.
Land lease charges
It currently pays land lease charges at the rate of 6 percent per annum on the market value of industrial land with annual escalation of 7 percent, for terminals run on Railways land.
CONCOR is expected to pay land lease charges of Rs 450-490 crore for 2023-24 after it had estimated the payout at Rs 450 crore for 2022-23.
CONCOR's business is also losing steam; its volumes grew by a little over 5 percent in the December quarter while its lucrative and mainstay Export-Import (Exim) volumes were up less than 1 percent.
With weakness in global trade persisting, analysts fear Exim volumes may remain weak for some time. "Exim volumes are likely to take a couple of quarters to recover," Jefferies India said in a note.
Private sector competition
Intensifying competition from private sector companies are also red flags drowning investor interest in CONCOR, warn analysts at Kotak Institutional Equities.
The Cabinet decided that the new land lease charges will be levied at 1.5 percent of the market value of land per annum with annual escalation of 6 percent.
The Department of Investment and Public Asset Management (DIPAM) had in October last year held roadshows for CONCOR to gauge investor interest.
The Cabinet, in November 2019, had approved the strategic sale of a 30.8 percent stake, along with transfer of management control, in CONCOR out of the government equity of 54.80 percent. The government will retain a 24 percent stake post the sale, but without any veto powers.
The stake sale has been hanging fire as investors awaited clarity on the rail land lease policy and licensing fees.
The Union Cabinet in September approved a revised policy that provides for long-term leasing of railway land for cargo-related activities for a period of up to 35 years at 1.5 percent of the market value of land per annum.
DIPAM has appointed L&L Partners as legal advisor for the partial divestment of CONCOR. Deloitte Touche Tohmatsu India has been roped in as transaction advisor and RBSA Valuation Advisors LLP as asset valuer by the department.