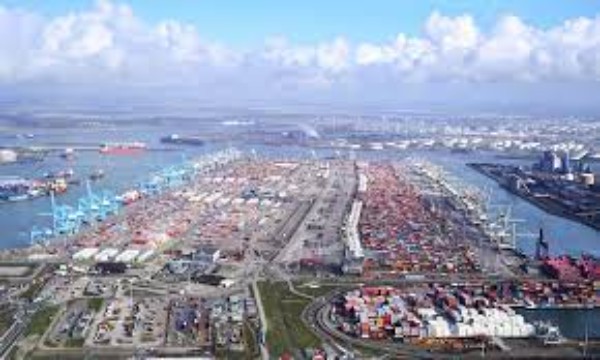 Green hydrogen ; not so much a pipe dream, more a reality
ROTTERDAM : The two people who inspired him dared to go for it: entirely sustainable. He talks about former CEOs Jeroen de Haas (Eneco) and Ab van der Touw (Siemens Netherlands). Randolf Weterings (38), programme manager for electrification and hydrogen at the Port of Rotterdam Authority, has the same inner drive. He is going for an entirely sustainable Rotterdam port and society.
Randolf likes to think big and far ahead. So, it was no surprise when he was chosen as Future Leader of the year at the 2022 World Hydrogen Summit. He gained this title for developing the hydrogen hub in Rotterdam from the initial idea to transforming them into specific projects by bringing together and integrating the various initiatives.
Legislation
For him, limiting global warming to no more than 1.5 degrees by 2050 is the most important climate goal, even more important than the 2030 climate targets. 'Why do I believe that this is the way to go? In the short term, many rules and laws that we have introduced ourselves simply get in the way. A good example is the nitrogen ruling on Porthos, which delays the reduction of carbon emissions. Another example is the legislation surrounding public infrastructure, such as electricity, in which upfront investment is possible only to a very limited extent. We are being confronted by all this because we are the first ones, but I am convinced that once the way is clear, we will proceed very quickly.'
Looking ahead
He looks ahead to 2050, with several milestones as intermediary stations. Key moments include the coming ashore of offshore wind as a source for hydrogen production, the construction of the hydrogen pipelines and the Shell hydrogen plant, which will be constructed on the Maasvlakte reclamation site and will produce exclusively green hydrogen. Randolf envisions our sustainable future.
Scaling up
The following example given by Randolf illustrates the importance of how he thinks big and far ahead: 'We now invite tenders for 2 gigawatts of wind power in each case. But we need 20 gigawatts of offshore wind in Rotterdam to produce green hydrogen to meet our climate goals and regional ambitions by 2050. For this purpose, it is better to lay the required pipelines in one go rather than a small section each time for 2 gigawatts. Although 2 gigawatts is already a huge scale-up compared with 2 years ago, it is of course more sustainable, more efficient and also important for longer-term investments to lay the pipelines in one go. Back then, we still referred to megawatts rather than gigawatts.'
Electric charging station
Randolf's passion for energy transition dates from his training. He started with LTS (lower vocational technical school) Electrical Engineering in 1998 and finished with Business Administration at Delft University of Technology in 2010. His dual work during his higher professional training at Eneco is still fresh in his mind: 'From 2006 to 2008, they gave me the opportunity to contribute to the development of electric charging stations. There weren't even any Teslas back then', proving once again that he was already a budding future leader.
Proud
'What I'm proud of? Wherever I go, everyone sees Rotterdam as the number one hydrogen hub. It's great that Shell has chosen our Maasvlakte for green hydrogen production. Furthermore, I am proud that we are facilitating 7.4 gigawatts of offshore wind by 2030. And I am proud of being part of the Porthos project, even though that has some delays now. That is actually bad news, because anything that contributes, we should do now.'
Certification system
He warns: 'We should not get too bogged down in policy documents, because if we do we will not achieve the climate goals. Users such as the refinery, mobility and aviation sectors must switch to green hydrogen or derivatives now.' In this respect, he points out the importance of a certification system that allows companies to prove that their hydrogen is 100 per cent green, i.e., generated from renewable energy, because the investment climate must be clear. 'We also need to be alert to excess capacity abroad and import prices. To give you an idea: half of the green hydrogen needed for Europe's 2030 climate targets will even have to come from outside Europe.'
'Just solar panels'
He continues to work on projects that make a difference and have an impact on people and the environment. That drives him and earns him respect. What is his personal contribution to sustainability? 'Just the usual things: solar panels on the roof and energy-use awareness,' he replies. After a brief pause for thought, he continues: 'In 2014, I also set up a company to build electrolysers needed to produce green hydrogen. Back then, hardly anyone was doing that and I often had to explain why hydrogen is so necessary. But the concept I developed then is now being put into practice at the conversion park.'