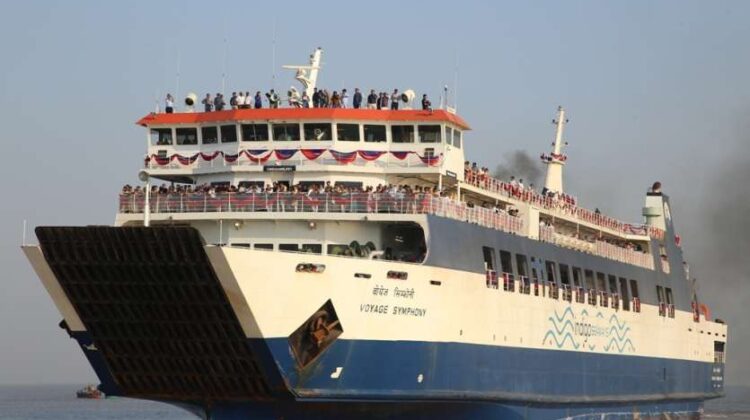 Gujarat's second Ro-Ro service set for flag off
RAJKOT : Gujarat's second Ro-Ro ferry service connecting India's biggest private port Mundra and Vadinar is all set to commence next month.
The sea route of 53 km is expected to give major fillip to some of the major industries like ceramics in Morbi, brass parts in Jamnagar and engineering goods in Rajkot.
Highly placed sources confirmed to that, the cargo vessel to be operated by Adani Group has got most of the clearances to start the service.
Vadinar is owned by central government-run Deendayal Port Trust (DPT), which passed a proposal in its board meeting held last month to allow Adani Logistics Ltd to use Ro-Ro jetty at Vadinar for commencing this service.
It's learnt that Adani will operate the cargo vessel in a joint venture with a private ferry operator.
Shri SK Mehta, chairman of DPT, said, "We have given all the permissions and obtained all regulatory approvals too. Mundra and Vadinar both have cargo jetties.
We expect to commence the service by the end of this month or beginning of next month."
One pending approval from Directorate General of Shipping is also expected in the next 10 days, sources said.
The Ro-Ro vessel will have a capacity to carry 24 trucks. The export cargo from ceramic, engineering, brass, chemical and detergent and import scrap for engineering and brass industry will be benefited in a big way.
According to a rough estimate, over 500 trucks ply to and fro from Mundra, Morbi, Rajkot and Jamnagar every day. The cargo imported at Mundra port has to travel 270 km to reach Jamnagar, but if loaded in a Ro-Ro vessel and unloaded at Vadinar, it will take just 53 km to reach Jamnagar.
In the same way, the distance of 250 km between Rajkot and Mundra will be reduced to just 140 km from Vadinar. The Ro-Ro service will help reduce traffic on the road, vehicular pollution and provide cost effectiveness.
Shri Aashish Joshi, Managing Committee member of Gandhidham Chamber of Commerce and Industry (GCCI) and a custom house agent said, "We are still not clear about how cost effective the service will prove to be. Morbi is in the center and they may prefer to handle cargo by road because Vadinar-Morbi distance is again 150 km."
Source : Times of India