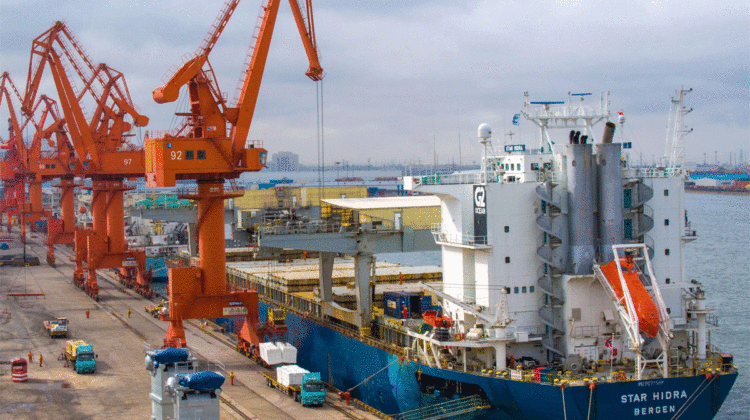 Haldia Port next in line for Adani after Gangavaram Port

---
KOLKATA : West Bengal is all set to join the long list of maritime states where the Adani Group has a presence. If everything goes to plan, the conglomerate will take over a berth at the Haldia Dock Complex. It will have to oversee the end-to-end mechanization of the berth which is expected to come up to Rs.300 crores. Once the work is complete, the berth will be capable of handling cargo close between 3.5-4 million tonnes annually.
Haldia Port is next on the list for Adani after SBI sanctionedtakeover of Andhra Pradesh government's stake of 10.4 per cent in Gangavaram Port Limited, according to the sources.
The port-to-power conglomerate has emerged as one of the favorites to win the rights to operate a berth at Haldia after quoting a royalty of Rs.75 per tonne. The closest challenger was local player Ripley & Co. with Rs.65 per tonne. The development comes after Gangavaram Port in Andhra Pradesh was acquired from the state government by Adani with SBI Capitals endorsing the transaction. Winning the Haldia berth will allow Adani to significantly expand its operations on India's eastern seaboard. It already owns ports in Odisha, Andhra Pradesh and Tamil Nadu and two terminals at the government-run Ennore and Vizag ports.
Cargo traffic at major Indian ports rose by 11.43 per cent in August YoY and touched 57.59 million tonnes in comparison to 51.68 million tonnes last August. The growth is a strong reflection of a recovering Indian economy that is finding its feet after a year and a half of pandemic restrictions. Gaining access to Haldia Port will allow Adani to integrate its operations on India's eastern coast especially now that Gangavaram Port is also in its kitty.
After announcing its intention to takeover 31.5 per cent stake in Gangavaram Port Limited (GPL), APSEZ went on to acquire a majority stake of 58.1 per cent in the port. The remaining 10.4 per cent stake which was held by the Andhra Pradesh government was also eyed by Adani. SBI Capital, which was roped in by the government to conduct an assessment, approved of the takeover of the remaining stake by the conglomerate. With the Competition Commission of India (CCI) and the boards of Adani and GPL sanctioning the merger, the port is firmly in the hands of the port operator.
Adani Ports and Special Economic Zone (APSEZ), the Group's port division, has a total of 13 ports and terminals spread out over seven coastal states under its wing. Incidentally, West Bengal and Karnataka are the only two states where the port operator has no presence. Acquiring a berth at Haldia Port will add considerable depth to its logistics operations. This also comes at an opportune moment when the Mamata Banerjee-government is planning a greenfield port at Tajpur. Adani's presence might just be what the doctor ordered.
---