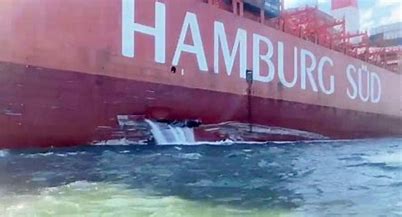 Hamburg Süd vessel hits ferry pier in Santos
The 11,503TEU container ship, Cap San Antonio, crashed into a ferry pier in the Port of Santos in Brazil on 20 June. The floating berth, which was hit by the boxship "has apparently now sunk," according to the container shipping analyst, Lars Jensen.
Hamburg Süd has confirmed that its vessel "has been involved in an incident in Santos" while departing the port complex in route to Paranagua, Brazil.
"At this time there have been no reports regarding physical injuries on or off the vessel or pollution in the area," a Hamburg Süd representative told Container News.
The Hamburg Süd vessel, which was deployed on North Europe – East Coast South America service, has suffered a hole in its portside hull with ballast water seeping out, as can be seen in the following video.
The new Panamax ship has been moved to an outer anchorage for investigation and repairs. The port authorities have stated that the vessel must remain in the anchorage area to assess its safety conditions, according to Lars Jensen.
"We are currently assessing the situation on the ground and collaborating with authorities accordingly," said Hamburg Süd in its statement.
"Shippers should hope that the damage can be quickly fixed, as the vessel accounts for almost 50% of the coming week's planned direct capacity from East Coast South America to North Europe," pointed out Jensen in a LinkedIn post. "Not having this vessel available will cause significant export capacity problems in this trade."
Source : Container News