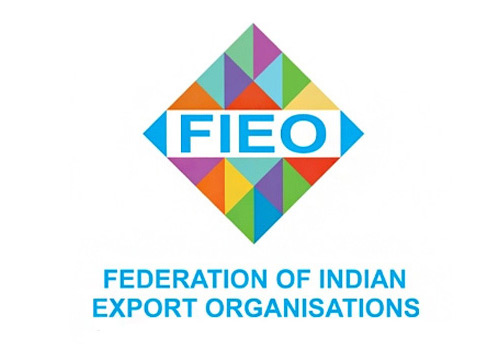 Highest-ever quarterly growth in exports, the strength of the Indian economy: President, FIEO
NEW DELHI : Reacting to the trade data for the first quarter of the FY' 2021-22, Dr A Sakthivel, President, FIEO said that the highest-ever quarterly growth in exports of 85 percent with USD 95 billion over FY' 2020-21 and by 18 percent over FY' 2019-20 not only shows the resilience of the exports sector but also the strength of the Indian economy. Dr Sakthivel also reposed faith in the overall exporting community, who in these difficult and challenging times have continuously been able to perform with vigour and dynamism. Exports for June, 2021, which for the fourth time in a row, have shown a very impressive growth of 47 percent with USD 32 billion during the month, also augurs well for the overall foreign trade sector of the country, added FIEO Chief.
Dr Sakthivel reiterated that the top sectors, which performed impressively during the first quarter of the FY' 2021-22 starting with 3-digit growth were Iron-ore, Rice, Cotton Yarn/Fabs/Made-ups, Handloom Products etc., Engineering Goods, Plastics & Linoleum, Organic & Inorganic Chemicals, Electronic Goods, Petroleum Products, Marine Products and Drugs & Pharmaceuticals. FIEO President emphasised that as the labour-intensive sectors were main contributors to these ten impressively growing sectors during the quarter, this will further help in creating jobs in the country, being the most relevant in the current context.
FIEO Chief complimented the government specially the Union Finance Minister, Commerce Minister and Textile Minister under the able and dynamic leadership of the Hon'ble Prime Minister Shri Narendra Modi for the continuous support to the sector during such challenging times.Increase in both quarterly and monthly imports by about 108 percent and 96.33 percent compared to the same period during the previous fiscal, should be looked into.

FIEO President reiterated that though the government has announced a slew of measures during recent times to support exports with the extension of Interest Equalisation Scheme by 3 months to September 30, 2021 and the today's announcement of the Union MSME Minister on revised guidelines for MSMEs with the inclusion of retail and wholesale traders as MSMEs, which will help 2.5 Crore traders to get benefit of priority sector lending under RBI guidelines. Further the need of the hour is to soon notify the RoDTEP rates to remove uncertainty from the minds of the trade and industry, besides addressing some of the key issues including priority status to exports sector, release of the necessary funds for MEIS and clarity on SEIS benefits, resolving risky exporters' issues and continuance of seamless refund of IGST and more importantly continuing with IGST option for exports.
Source : FIEO