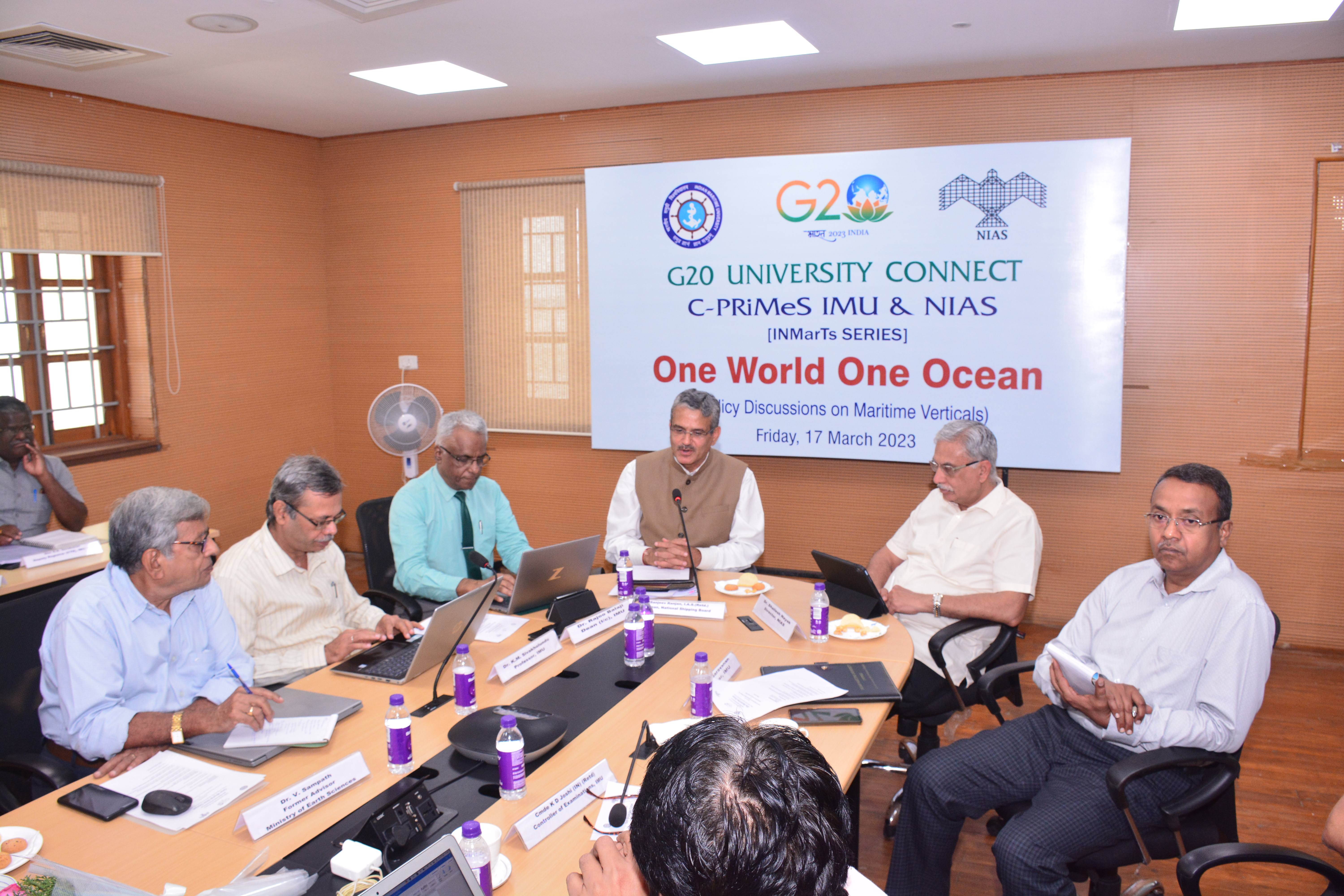 IMU and NIAS deliberate Maritime Verticals for G20
CHENNAI : India as the G20 chair has identified 'One Earth, One Family, One Future' as the theme. Ever since it took over the leadership, there have been a series of discussions in collaboration with the societal bodies think tanks and universities. The G20 University connect is one such initiative, under which the Indian Maritime University (IMU) and National Institute of Advanced Studies (NIAS) came together in Chennai on 17 March 2023 for a panel discussion under 'One World, One Ocean'.
In the forum supported by the Science, Technology, and International Relations programme of NIAS, and the Centre for Policy Research in Maritime Studies (CPRiMeS) several experts participated. Welcoming the team, Dr Rajoo Balaji, Director of IMU emphasised the importance of ocean, and underlined how the process will lead preparing a policy brief for the consideration of G20.
The nine verticals that were discussed were S&T in maritime, maritime education and training (MET) blue economy, polar regions, maritime domain awareness, marine pollution, maritime heritage and global maritime initiatives.
Dr Sanjeev Ranjan, Chairman, National Shipping Board, highlighted the initiatives of Indian Government through Sagarmala and MIV 2030. He recommended that Green and resilient supply chains and digitization for the G20 Agenda.
Dr Shailesh Nayak, spoke on how G20 can leverage S&T in the maritime domain. He highlighted the key issues to maritime domain centres at energy transition, coastal tourism, coastal marine spatial planning and in promoting sustainable practises for communities.
Dr KM Sivakholundu, Professor at the IMU presented emphasized that school curricula must include ocean awareness.
Prof. D Suba Chandran from NIAS spoke on 'Why G20 should pursue Polar Regions as an integrate whole?'. He recommended an integrated polar science approach, polar disaster management, a combined Polar council for Arctic, Antarctic and Himalayas.
Dr V Sampath, Former Advisor, Ministry of Earth sciences spoke on 'What new steps can G20 pursue on Blue Economy?'. He suggested for scientific cooperation among LDC, DC, UDCs at policy level.
Dr Vedachalam, Scientist G, NIOT spoke on 'A policy agenda on Maritime Underwater Domain.' Deep sea mining for Cobalt, gas hydrates, climate financing were recommended.
Prof Sindhu Radhakrishna (NIAS) spoke on 'A new marine biodiversity agenda for G20' highlighting the key issues in climate change, overfishing and recommended for a holistic marine biodiversity protection in global regions.
Arya S Pradeep and Mythrayi Harshavardhan, (Research Associates, NIAS) spoke on 'How to leverage maritime heritage in G20?' bringingthe collective efforts between member nations for the conservation and upliftment of shared cultural resources.
Padmashree Anandhan, (Research Associate, NIAS) presented on 'What are the new global maritime initiatives? How can G20 make use of them?" She suggested a comparative research study to analyse the cost of technology, regeneration, exploration and to produce alternate materials instead of minerals.
The daylong event captured several interesting points which shall be elevated to the G20 Forum through the Indian Government.