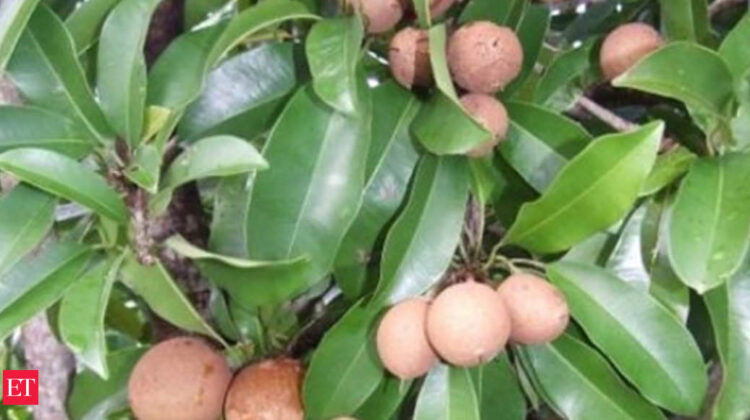 India begins exporting GI certified Gholvad Sapota
NEW DELHI : After exporting geographical indication (GI) certified mangoes to South Africa this month, APEDA (Agriculture and Processed Food Export Development Agency) helped export Dahanu Gholvad Sapota consignments from the Palghar district of Maharashtra to the United Kingdom. .. Ghovad Sapota's GI certification is held by Maharashtra Rajya Chikoo Utpadak Sangh, whose fruits are known for their sweet and distinctive taste. The unique taste is believed to come from the calcium-rich soils of the village of Golwad.
Currently, in the Parger district, about 5,000 hectares of land are under Sapodilla plantations. Of the 5,000 farmers growing Sapota, 147 are GI authorized users. Supplied by authorized GI users, Dahanu Gholvad Sapota was categorized and graded from registered packhouse facilities with the support of Apeda.
Currently, the demand of importing countries is mainly from ethnic groups, and unlike other fruits, Sapodilla can be cultivated throughout the year, so if mainstream buyers are also targeted, exports will be He said it could multiply. Apeda has focused on promoting the export of GI products. Uniqueness, intrinsic value, and virtually no competition from outsiders, GI products offer great export potential.
Sapota is cultivated in many states, including Karnataka, Gujarat, Maharashtra, Tamil Nadu, West Bengal and Andhra Pradesh. Karnataka is known to be the best grower of fruits, followed by Maharashtra. It can be used in fruit salads, blended with milk and yogurt, used as smoothies, and processed to make jams. "Earlier this month, 2.5 metric tonnes of GI-certified Bangana Paris and Sulvar Nareka mangoes procured from Krishna farmers and the batter district of Andhra Pradesh were exported to South Korea," the announcement from APEDA said.
Mangos were processed, cleaned, shipped and exported by IFFCO Kisan SEZ (IKSEZ) from Apeda-supported packhouses and steam heat treatment facilities in Tirpati, Andhra Pradesh. This was the first export consignment sent by IKSEZ, a subsidiary of IFFCO, a multilateral co-operative with 36,000 members of society. Mango exports to South Korea may increase this season. IFFCO Kisan SEZ has agreed with South Korea's Meejaim to supply 66 tonnes of mango this season. Andhra Pradesh's horticultural department also cooperated in this effort.
Source : India News Republic