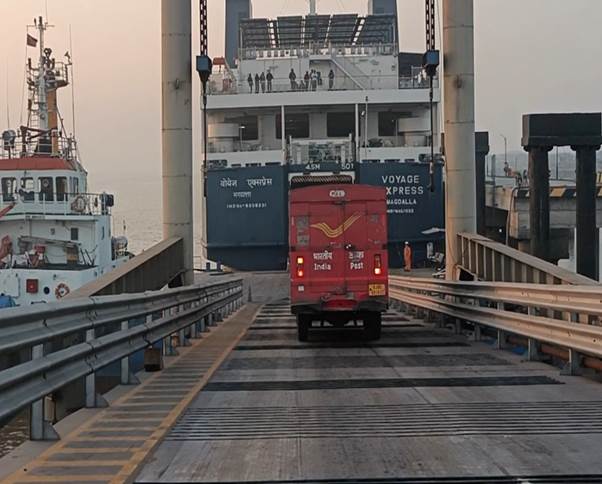 India Post to use RoPax Ferry Services on Gogha- Hazira route for speedy postal services between Saurashtra, South Gujarat & Mumbai
MUMBAI : After successful trial for a month through RoPax Ferry Services on the Gogha Hazira route in the state of Gujarat,  the most popular postal system in the world, 'India Post' to continue its postal and package delivery services for speedy and economical dispatch on daily basis.
On Friday, 20.01.2023 at 0815 hours Minister of State for Communications Shri. Devusinh Chauhan will flag off the daily mail and parcel delivery transportation services of India Post on 'M.V. Voyage Express- RoPax Ferry' from Ministry of Ports, Shipping and Waterways, Hazira terminal. The service will not only bring down the delivery transportation time of about 10-12 hours to 3-4 hours but will also enable swift movements of industrial packages between Saurashtra and South Gujarat & Mumbai regions.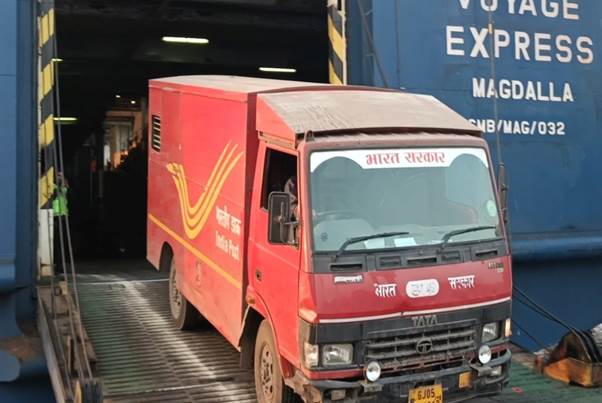 The service is estimated to carry daily postal cargo of about 3 to 4 tons during upcoming months. The RoPax service between Hazira and Gogha inaugurated by Prime Minister Shri. Narendra Modi in November 2020 is receiving overwhelming public response and has transported more than 3.7 lakh passengers and 1.1 lakh vehicles (car, bus, truck) till December 2022 since inauguration.
Expressing his pleasure, Minister of Ports, Shipping and Waterways Shri. Sarbananda Sonowal stated that, "This innovative collaboration of postal and package delivery services through waterways is another step towards attaining the vision of Prime Minister Shri. Narendra Modi of harnessing waterways and integrating them with the economic development of India along with decreasing the transportation costs and aiding the ease of doing business". Earlier this month, Ministry of Ports, Shipping and Waterways has also directed the Major Ports of India to waive off vessel related charges and provide highest priority berthing for RoPax Ferry services under Sagarmala Programme to promote the newly emerging urban waterways passenger transportation eco system and enable green transportation in the country.