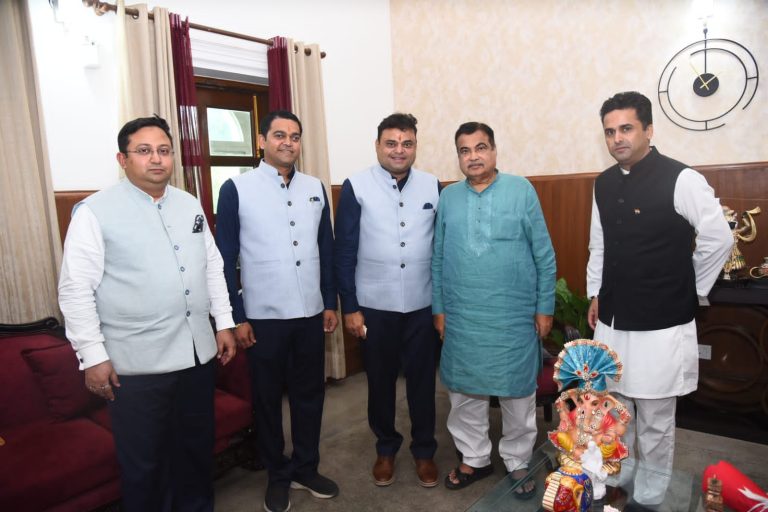 Indian Chamber of Commerce, Gujarat State delegation meets Nitin Gadkari to boost logistics sector
NEW DELHI : In a proactive move to foster growth in the logistics sector and stimulate trade, a distinguished delegation from the Indian Chamber of Commerce(ICC), Gujarat State, recently initiated a meeting with Mr. Nitin Gadkari, the Honourable Minister for Road and Transport.
At the heart of this meeting was the aspiration to propel Gujarat's logistics business onto a trajectory of expansion and prosperity. The delegation from ICC Gujarat State, New Delhi, was led by Mr. Fasail Ahmed Patel, Founder Member ICC, Mr. Debmalya Banerjee, Regional Director,
ICC Delhi and Mr. Bharat Gupta, the Convener,ICC Gujarat who also serves as the President of the Kandla Shipping Association. The delegation came together with a common vision to invigorate trade prospects within the region.
In a heartfelt gesture that encapsulated their shared hopes for a brighter future, the delegates, representing the Indian Chamber of Commerce, extended their warm wishes and presented a memento to Mr. Nitin Gadkariji. This momentous occasion took place during the auspicious festival of Shree Ganpatiji, further adding significance to the event.
The delegation's proactive efforts to engage with Mr. Nitin Gadkari, a key figure in India's road and transport infrastructure development, underscored their commitment to advancing the state's logistic capabilities. The discussions held during this meeting are poised to unlock new avenues for economic growth, not only in Gujarat but also for the entire nation.
This forward-thinking initiative signals a promising future for Gujarat's logistic industry and reinforces the Indian Chamber of Commerce's dedication to fostering trade and commerce, making it a noteworthy event for all stakeholders involved.