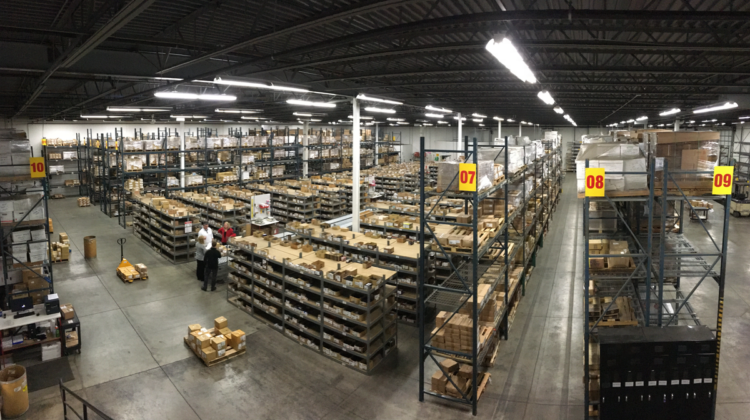 Industrial and warehousing demand rises 11% YoY in Q1
NEW DELHI : Leasing of industrial and warehousing space rose 11 percent year-on-year (YoY) to 7.2 million square feet (msf) during the January-March period across five major cities, driven by higher demand from third-party logistics and e-commerce firms, according to Colliers India.
The report stated that Delhi-NCR continued to lead in demand with a 29 percent share, followed by Mumbai. Third-party logistics (3PL) players accounted for 41 percent of the demand, followed by the fast-moving consumer goods (FMCG) sector at 12 percent.
"The demand from the retail and FMCG sectors saw a three-fold rise YoY as they expanded their presence in larger markets such as Delhi-NCR and Mumbai. This increase in industrial warehousing space uptake aligns well with the growth in private consumption in the domestic economy," the report added.
Mumbai experienced a 37 percent YoY increase in leasing, primarily driven by 3PL operators who continued to expand in the city despite weaker economic and business sentiment.
"The Tauru road and NH 48 in Delhi-NCR, and Bhiwandi in Mumbai remained attractive markets during the quarter," the report stated.
However, Bengaluru witnessed an 18 percent dip in the gross absorption of Grade A space compared to the previous year.
"Supply across the top 5 cities declined by 8% YoY, totaling 5.8 million sq ft, as developers remained cautious in response to the evolving demand scenario. Higher raw material prices and increased logistics costs also affected new project completions across major markets," the report said.
Over the next few quarters, developers are expected to continue exercising caution and supply the market to meet demand, thus maintaining market fundamentals, according to Colliers.
Due to limited available supply and strong demand, vacancy levels across the top five cities decreased by 170 basis points YoY during Q1 2023 to 8.1 percent. Most markets, except Delhi-NCR, experienced single-digit vacancy levels, driven by steady demand from 3PL, FMCG, and engineering companies.
Rental rates in top micro-markets witnessed an annual increase. Chakan in Pune and Bhiwandi in Mumbai were among the key micro-markets that saw rental upticks of 14 percent and 6 percent, respectively.
"Over the last 7-8 quarters, demand in Pune has consistently exceeded supply, resulting in a significant drop in vacancy to 6.3 percent during Q1 2023. Demand from the automobile and engineering sectors remains strong, accounting for at least 50% on average. Capitalizing on this robust demand, multiple large-scale warehousing parks have been planned in the Chakan-Talegaon region," said Animesh Tripathi, Managing Director, Pune and Mid-India Industrial and Logistics Services, Colliers India.