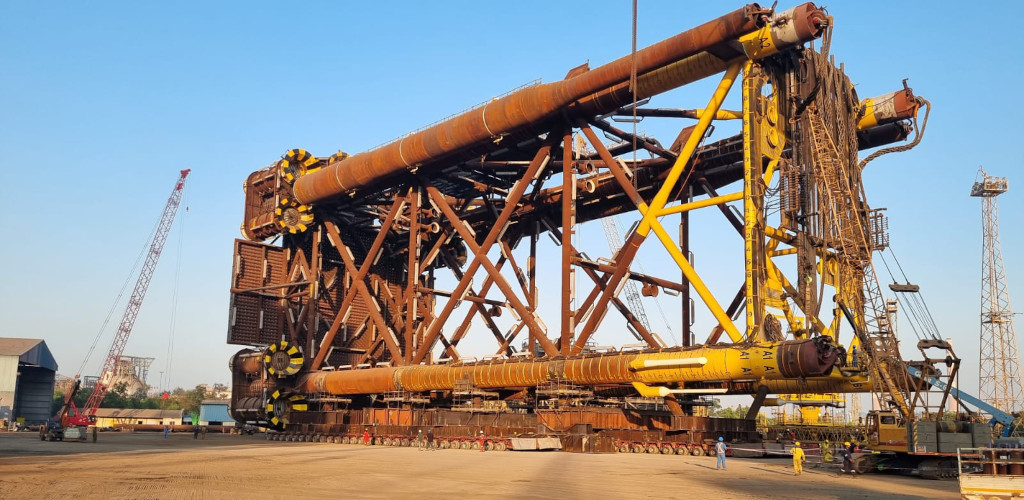 J M Baxi Heavy moved 5,320-Tonne Jacket for Offshore Installation
MUMBAI : India-based breakbulk specialist J M Baxi Heavy was recently called into action to move a hulking, 5,320-tonne steel jacket destined for an offshore oil and gas installation off the coast of Mumbai.
The jacket was the heaviest single structure ever loaded and transported in India, J M Baxi said.
The 81-metre-long, 35-metre-wide and 40-metre-tall piece was first moved from engineering firm Larsen and Toubro's fabrication facilities at Hazira to a nearby jetty using 248 axle-lines of SPMT fitted with 2,000 tyres, and manoeuvred using 10 power-pack units.
"The jacket was built 500 metres from the jetty," Mr Sameer Parikh, President and Chief Business Officer of J M Baxi Heavy, told Breakbulk.
"However, the entire piece had to be reoriented, due to which the time required (to carry out the move) was close to four hours."
At the jetty, the jacket was loaded onto a 400-class heavy deck barge using 65 ballast pumps on the same set of hydraulic axles and shipped to the installation site, some 180 nautical miles (333 kilometres) off the coast.
The ocean-going section of the move was carried out by L&T's project team.
"Tidal restrictions meant the load out onto the barge had to be carried out at midnight. The operation lasted about two hours and required final alignment once on the barge to match the offshore crane lift requirements," Parikh said.
J M Baxi Heavy is a division of Indian ports and logistics conglomerate, the J M Baxi Group.
The company will be exhibiting at Breakbulk Middle East 2023, happening this year on 13-14 February at the Dubai World Trade Centre, Dubai.
Source : Breakbulk