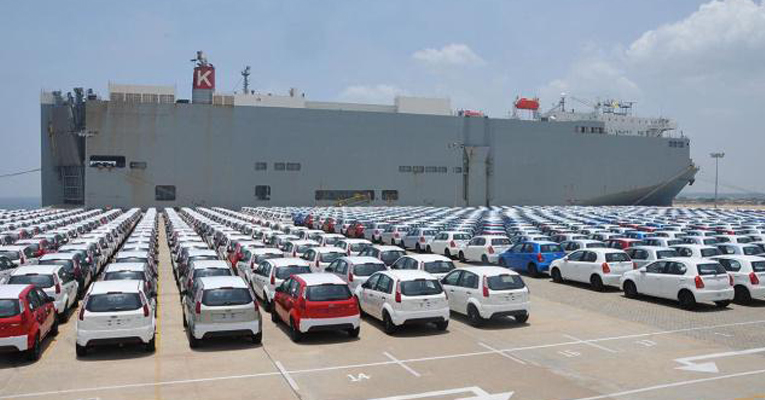 Kamarajar Port logs 13% rise in auto exports in 2022
CHENNAI : The Kamarajar Port in Tamil Nadu has registered 13% growth in automobile exports in calendar year 2022, riding on its excellent infrastructure facilities including ample vehicle storage capacity.
The port has facilitated exports of 141,022 automobile units in 2022 against 124,489 units in 2021. Nissan & Renault, Ford, Toyota, Isuzu Motors and Daimler India export through Kamarajar Port.
Sunil Paliwal, Chairman, Kamarajar Port and Chennai Port, told that both the ports are leaders in automobile exports and especially Kamarajar Port has very good infrastructure with ample storage areas. "We keep adding OEMs and manufacturing companies from Karnataka and Andhra Pradesh are looking at these ports because of excellent infra and good care that out people take."
During the year, Nissan and Renault exported 81,036 vehicles against 62,873 units in 2021, recording a growth of 39%, while Ford shipped 28,484 units against 40,716 units — a drop of 30% due its winding up of India plants.
Isuzu Motors exported 17,410 vehicles compared with 8,192 units, registering a 112% increase. Daimler India exported 5,869 units against 5,402 units, marking an increase of 8.6%, while Toyota Kirloskar shipped 105 vehicles and others exported 8,000 units of automobile units.
In the case of Chennai Port, during April to December 2022, vehicle exports have registered a growth of 42% against the same period in 2021. The port has facilitated exports of 178,079 units compared with 125,743 units. South Africa, Mexico, Saudi Arabia Chile, Peru, Ecuador, Morocco, Tunisia, Panama and Libya are the top 10 exporting countries for the Chennai Port. Hyundai and Kia are the major OEMs, among others that export through Chennai Port.
Recently, Kamarajar Port signed an agreement with Maruti Suzuki India for the export of passenger vehicles to global markets. Kamarajar Port will be used for exports to Africa, West Asia, Latin America, ASEAN, Oceania & SAARC regions by the company.