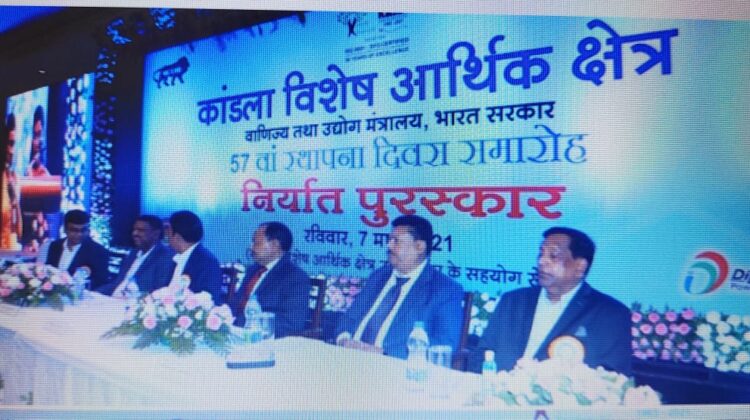 KASEZ celebrates its 57th Foundation Day on 7th March 2021
GANDHIDHAM: Kandla SEZ commemorated its 57th Foundation Day on 7th March,2021.Kandla Special Economic Zone is one of the seven operational Economic Zones in India,run by the Central government and the first at its kind Asia-pacific.
This Zone,initially set up as a Free Trade Zone and was inaugerated by the late Prime Minister Shri Lal Bahadur Shastri on 7th March 1965.
Over the years since its inception,consistent and continuous growthhas been the Hallmark of Export performance of this Zone.
From the meagre export of Rs 7 lakhs in 1966-67 its performance has touched new height of export figure more than Rs 6360 crores in 2019-20.However, despite the Lockdown in country resulting in severe disruptions in logistics supply chain & manufacturing itself across the Globe,KASEZ has outstandingly performed in our exports reaching Rs 5541 crores in 2020-21′
KASEZ are feeling much proud to intimate you all that their Team,"Managenment System Of Kandla Special Economic Zone,Gandhidham ,Kutch,GUJARAT,"has been approved by the Alcumus ISOQAR to the requirements of ISO9001:2015 with certificate no;19707-Q15-001 for Administration and Management of the functions of the office of the Development Commissioner,Kandla Speciaol Economic Zone related to acceptance and acknowledgement of communication,issuance and renewal of Letter of Approval (LoA)
The function commenced at 11.30 a.m. onwards,Shri Sanjay K.Mehta,IFS,Chairman,Deendayal Port Trust was the Chief Guest on this occasion,shri Pramod a.vasave,IRS.Commissioner(GST) ,Gandhidham and Shri T.V.Ravi IRS.Commissioner Customs ,Kandla& Mundra were the Guests of Honour of the ceremony.Apart from the bove ,many dignatories ,Officers of Customs, GST,Income Tax,Officials of KASEZ industries Association, Shri Paras Jain,President KASEZIA , Shri R G Chellani, Secretary KASEZIA,Unit Representative of KASEz and Trade and Media persons also graced the occasion.