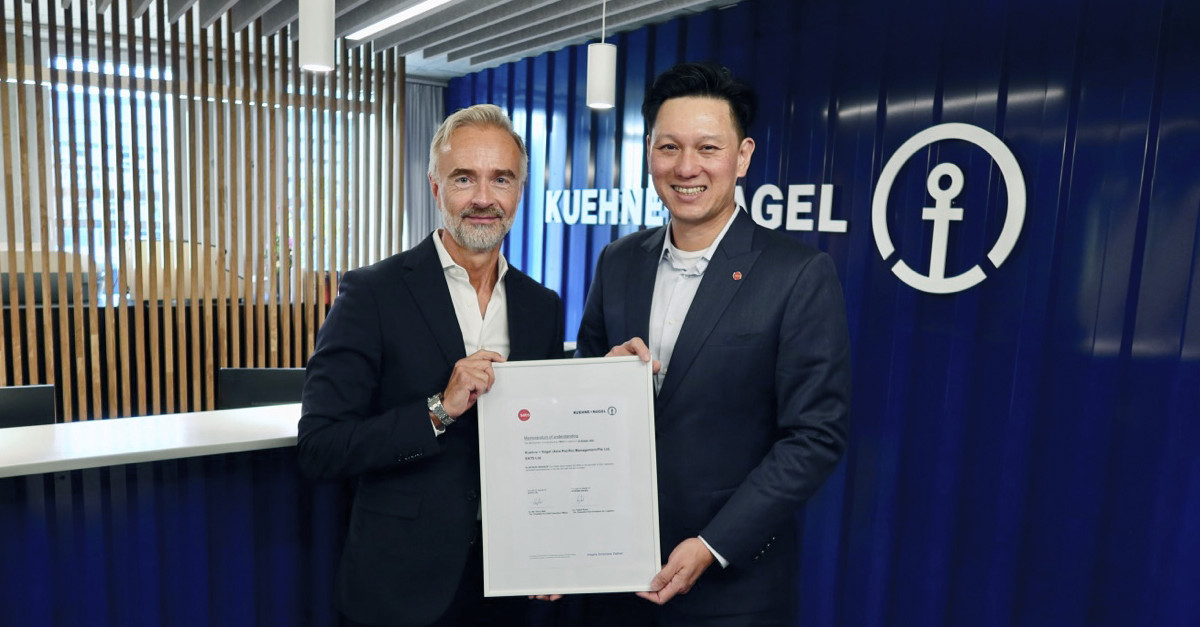 Kuehne+Nagel and SATS enter strategic collaboration to drive value chain improvements for air logistics customers
The two companies aim to co-develop solutions throughout Asia, Europe and North America
Initial Proofs of Concept demonstrate time savings, scalability and touchpoint reductions
SCHINDELLEGI : Kuehne+Nagel and SATS Ltd ("SATS") recently signed a Memorandum of Understanding (MoU) to enter into a strategic collaboration to drive value chain improvements and sustainability efforts within the air logistics industry.
Together, the two companies have initially collaborated on several successful Proofs of Concept to optimise ground handling for e-commerce shipments, air charter hub and spoke operations, as well as to improve shipment visibility and cargo processing speeds for time-critical shipments. The aim of the collaboration between Kuehne+Nagel and SATS, which acquired Worldwide Flight Services (WFS) in April 2023, the world's largest air cargo logistics provider, is to co-develop and implement solutions for customers throughout Asia, Europe and North America. The first Proofs of Concept have produced encouraging results, demonstrating time savings and reducing touchpoints for Kuehne+Nagel shipments at SATS' airside facilities.
Yngve Ruud, Member of the Management Board of Kuehne+Nagel responsible for Air Logistics commented "Collaboration is at the heart of what we do at Kuehne+Nagel and we are very excited to partner with SATS. By leveraging our combined expertise and global footprints we improve our service offering and continue to create value for customers around the world."
"We are always looking at ways to bring extra value to our customers to serve them better, and to benefit from the new opportunities our growing global network offers. Kuehne+Nagel shares this progressive approach and this is why our companies are moving from a conventional customer-vendor relationship to a strategic collaboration to drive improvements and efficiencies in the supply chain" said Kerry Mok, President and Chief Executive Officer of SATS.
About SATS
SATS is a global leader in gateway services and Asia's pre-eminent provider of food solutions. Using innovative food technologies and resilient supply chains, SATS creates tasty, quality food in sustainable ways for airlines, foodservice chains, retailers, and institutions. With heartfelt service and advanced technology, SATS connects people, businesses, and communities seamlessly through its comprehensive gateway services for customers such as airlines, cruise lines, freight forwarders, postal services and eCommerce companies.
Fulfilling the Group's purpose to feed and connect communities, SATS delights customers in over 210 locations and 27 countries across the Asia Pacific, UK, Europe, the Middle East, Africa, and the Americas. SATS has been listed on the Singapore Exchange since May 2000. For more information, please visit www.sats.com.sg.
About Kuehne+Nagel
With over 79,000 employees at almost 1,300 sites in close to 100 countries, the Kuehne+Nagel Group is one of the world's leading logistics providers. Headquartered in Switzerland, Kuehne+Nagel is listed in the Swiss blue-chip stock market index, the SMI. The Group is the global number one in air and sea logistics and has strong market positions in road and contract logistics.
Kuehne+Nagel is the logistics partner of choice for 400,000 customers worldwide. Using its global network, logistics expertise and data-based insights, the Group provides end-to-end supply chain solutions for global companies and industries. As a member of the Science Based Target Initiative (SBTi), Kuehne+Nagel is committed to sustainable logistics by reducing its own environmental footprint and by supporting its customers with low-carbon logistics solutions.