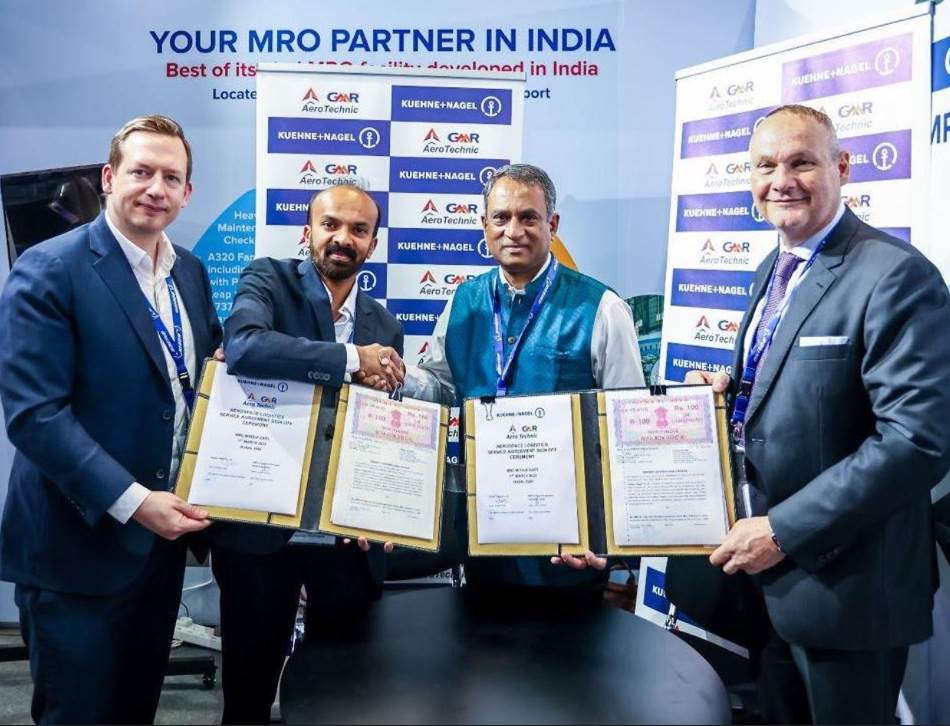 Kuehne+Nagel signs logistics service agreement with GMR Aero Technic, India's leading MRO
The three-year contract continues the long-standing association between both companies
GMR Aero Technic is constantly upgrading and expanding its service offerings for Indian and international aerospace customers
HYDERABAD : Kuehne+Nagel, a leading global logistics company, announced that it has signed a three-year logistics service contract with GMR Aero Technic, a subsidiary of GMR Hyderabad International Airport Limited. With the contract, Kuehne+Nagel will focus on inbound and outbound international air logistics needs, reduce downtime and 24×7 AOG support for GMR Aero Technic.
GMR Aero Technic has been constantly upgrading its capabilities and expanding its service offerings to meet the growing maintenance needs of airline operators within and outside India with a vision to be a lead MRO in the Asia Pacific region. The Indian MRO industry is expected to grow to US$ 4.0 billion by 2031 and with more than 1,000 new aircraft orders, India is likely to become the 3rd largest buyer of commercial passenger planes in the world.
Mr. Coen van der Maarel, Managing Director, Kuehne+Nagel India, Sri Lanka and the Maldives said, "We have been supporting GMR Aero Technic with expertise over the last few years by providing them with aircraft maintenance solutions in a timely, cost-effective manner. We are delighted and look forward to adding value to their operations and meeting their international logistics requirements. Technological advancements and disruptions are expected to accelerate the industry's evolution, and Kuehne+Nagel will continue to be an innovative and committed business partner to GMR Aero Technic.
Mr. Ashok Gopinath, CEO, of GMR Aero Technic, said, 'We are delighted to continue our partnership with Kuehne+Nagel. Kuehne+Nagel has proven to be a reliable partner of choice for aircraft maintenance logistics. Their commitment towards AOG deliverables remained unaffected even during the pandemic. GMR Aero Technic continues investing in upgrading and expanding their service offerings for aerospace customers, and our partnership with Kuehne+Nagel serves that priority.'