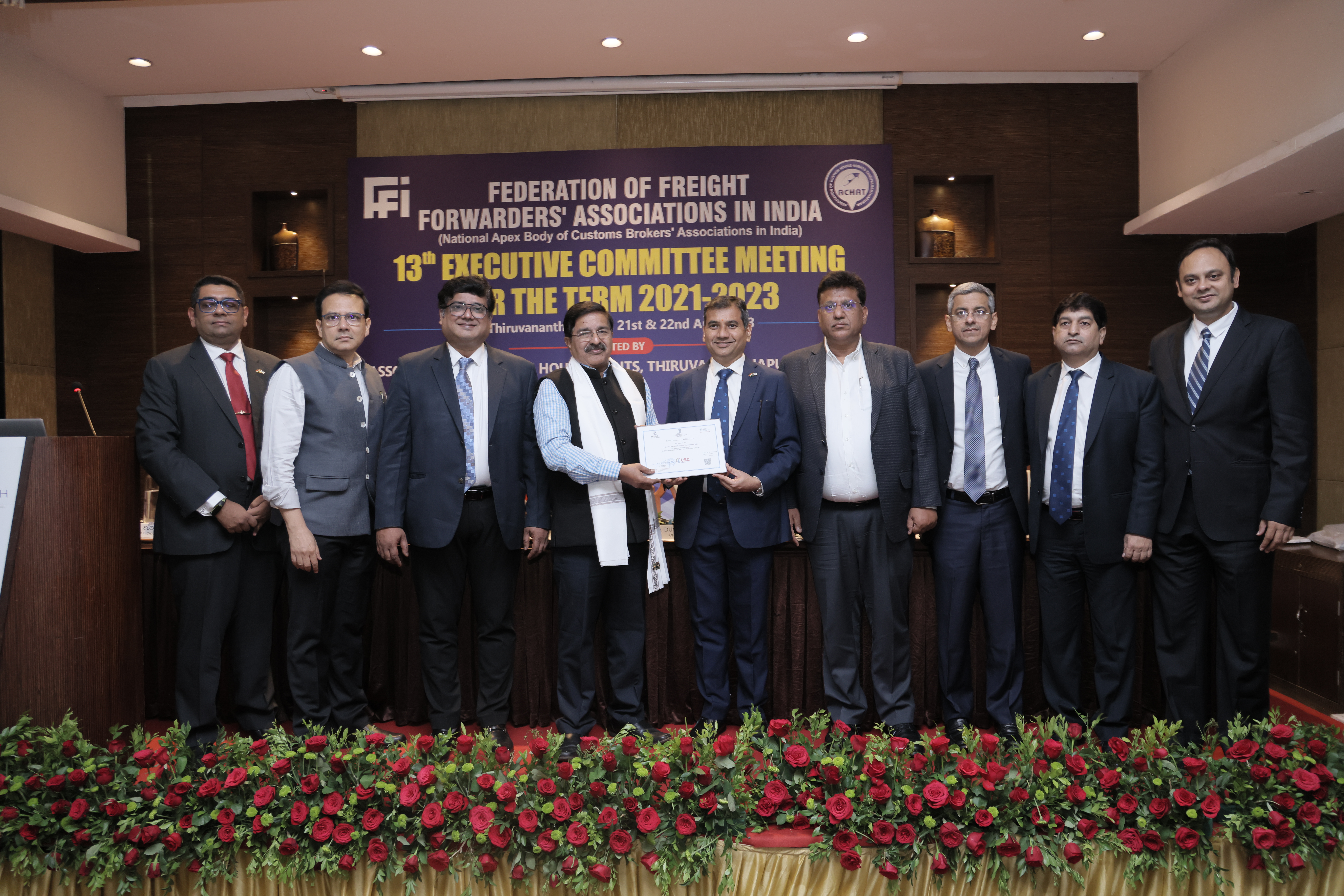 Logistics Skill Council recognises FFFAI as Training Partner
MUMBAI : Recently, the Federation of Freight Forwarders Associations' in India (FFFAI) has been recognised as a Training Partner by the Logistics Skill Council (LSC). Presenting the Certificate of Partnership at the 13th FFFAI Executive Committee Meeting held in Thiruvananthapuram Dr. C. Unnikrishnan Nair Head – Maritime Logistic, LSC said the partnership is aimed to strengthen the training initiatives of the Council thanks to FFFAI's presence at the operation level across the country through its 30 Member Associations. He also commended FFFAI's initiatives pertaining to skilling the logistics industry practitioners and aspirants keen to choose the logistics sector as an exciting career option through its training arm Indian Institute of Freight Forwarders (IIFF). As a result, collaboration between LSC and FFFAI would provide a big push to the skill development initiatives, pertaining to the logistics industry in India.
Addressing the FFFAI EC Members Dr Unnikrishnan elaborated on the formation and present activities of LSC and sector specific course details. Presently LSC is gearing up all its 12 logistics sub-sectors to spread awareness in such a way as to make it an aspirational sector, for both men and women. The Sub Sectors include 1.Warehousing (including tertiary packaging), 2.Land Transportation (including Commercial Vehicle Drivers for Cargo), 3. Cold Chain Solutions, 4. Courier & Express Industry, 5. E-Commerce, 6. Port Terminals, Inland Container Depots & Container Freight Stations, 7. Air Cargo Handling (other than Tarmac side operations), 8. Freight Forwarding and Customs, 9. Marine Services, Shipping & Inland Waterways, 10. Supply Chain Solutions, 11. Liquid Logistics and 12. Rail Logistics.
It is pertinent to mention FFFAI's training arm IIFF has been providing class room as well as online courses on Logistics, Shipping and Freight Forwarding, which are validated by International Federation of Freight Forwarders Associations (FIATA). IIFF was launched in 2004 by Mr. Mayur C. Contractor, with the sole objective of training and developing human skills of the highest order to match the global standards. The FIATA validated Diploma Courses will open growth opportunities and provide an edge for the candidates in the field of Customs Broking, Shipping & Freight Forwarding, Multimodal Transportation and many more.
At present IIFF has also having tie up with some other institute for imparting training viz IIFT (Indian Institute of Foreign Trade) / CTFL (Centre for Trade Facilitation and Logistics), Leaders College, Vidyabharathi Group of Institutions, Mithra Institute of Management Studies, Myanmar International Freight Forwarders Association, China International Freight Forwarders Association, S and S Expert Solutions and National Institute of Industrial Engineering.
Commenting on the partnership with LSC Mr. Shankar Shinde, Chairman, FFFAI said, "This was pending for a long time and I am happy we could conclude it now. The joint efforts by LSC and FFFAI will have a very significant impact as far as skilling the entire logistics industry is concerned with special emphasis on the Customs Brokers/Freight Forwarding community." According to Mr. Shinde, in view of the fast changing industry scenario, changing rules & regulations, digitization, faceless transactions and above all customers demand, skilling the human resources is a dire need to survive and thrive in the logistics business. And, FFFAI is committed to fulfill this training requirement for its members and the industry fraternity.