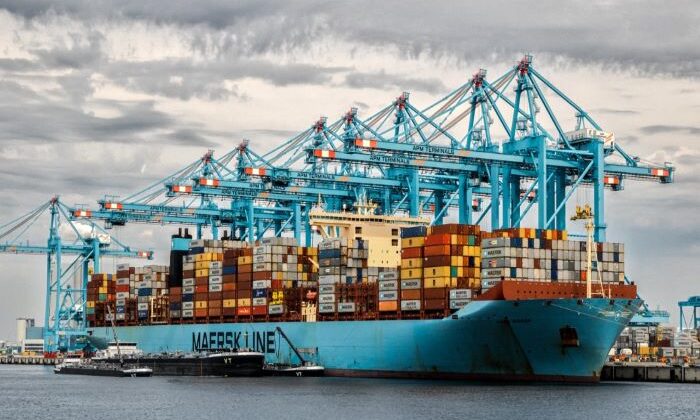 Maersk brings direct Europe loop to South India amid transshipment woes
CHENNAI : Southern India shippers have an opportunity to remediate long-running origin-to-destination supply chain shortcomings with Maersk opening a direct North Europe routing out of the region. The shippers have traditionally been dependent on foreign transshipping, which has lately become a thorn in their side.
The carrier from early August will launch the ME7 — a weekly, eight-vessel string — from the Ennore port, near Chennai. The port rotation will be Ennore, Colombo, Salalah, Algeciras, Felixstowe, Rotterdam, Bremerhaven, Jeddah, Salalah, Colombo, and Ennore.
The itinerary design suggests Maersk has a two-pronged strategy regarding India east coast trade — gateway access via Ennore and relay options through Colombo, Salalah, and Jeddah, which industry sources believe will significantly boost transit times and service reliability on the route.
With that entry, the liner is especially betting on Ennore's volume potential centering on automobile exports, retail demand, and other manufacturing sectors in the region.
"Our customers deserve a predictable service that will allow them to plan their supply chains better," Bhavan Vempati, Maersk's regional head of ocean management in West and Central Asia, said in a statement. "With our redesigned ocean network, we are not only providing our customers with predictability and resilience, but also greater speed to market allowing them [to] optimize their inventories and operations to meet the surge in demand with a competitive edge."
Notably, the ME7 is being positioned at a time when the South East India-Europe Express Service (IEX), the only long-haul loader with sizeable capacity and expansive port reach for trade out of the region at present, has been beset by void sailings and poor schedule reliability. The IEX, a joint operation between Hapag-Lloyd and Ocean Network Express (ONE), has suffered two blankings this month and is due to miss one voyage next month, crimping shipper loading plans.
Realigning Far East network from India
Maersk has also realigned its Far East network out of India by upgrading the FI3 Service — connecting Qingdao, Xingang, Kwangyang, Busan, Tanjung Pelepas, Colombo, Jawaharlal Nehru Port Trust (JNPT), and Pipavav — from fortnightly to weekly, and combining the existing Chennai Express and Jade Express routings into a single loop, known as the FI4. The merged service will call at Colombo, Tanjung Pelepas, Ennore, Visakhapatnam, Tanjung Pelepas, Port Qasim, and Mundra.
"The unprecedented scale of operational challenges restricting supply during the pandemic and the strong demand surge in parallel led to significant bottlenecks, capacity issues, and unforeseen delays across supply chains," said Mads Skov-Hansen, head of West and Central Asia liner operations at Maersk. "This prompted us to redesign our ocean network to overcome these challenges and make our customers' supply chains more resilient."
Large-size mainline direct calls for Indian trades have thus far been mainly concentrated on the country's western corridor, propelled by port infrastructure superiority and greater gateway cargo potential. But the addition of new, modern deepwater private terminals on the eastern coastline — mostly controlled by the Adani Group, including the Ennore terminal — is slowly drawing carriers to rework their Indian network math.
From a carrier perspective, Maersk's larger play is a clear sign that it is aggressively pursuing continual strategies to retain and grow its market leadership in India amid resurgent export trends.
South India terminals handled a combined 404,687 TEU in June, versus 392,465 TEU in May
Source : JOC.com