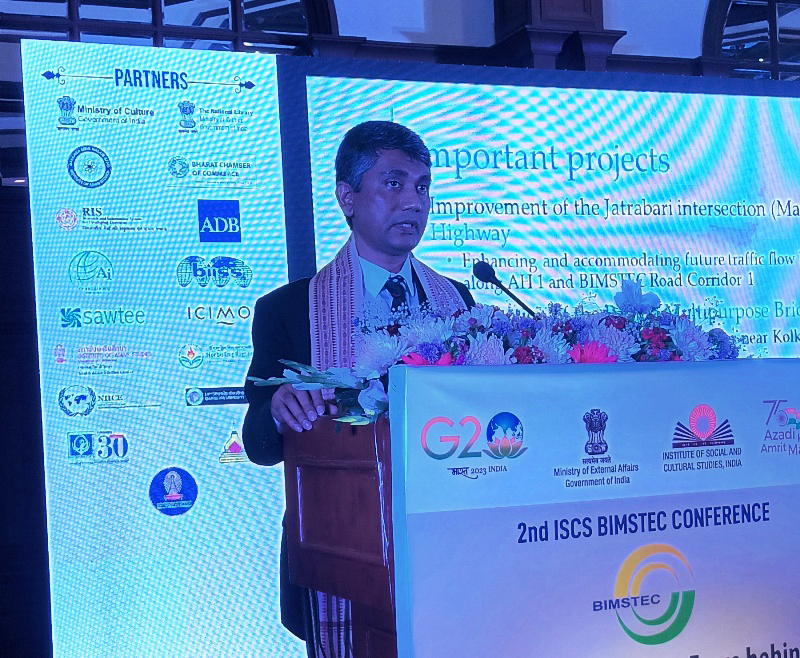 Maritime master plan focuses to establish Kolkata as connectivity hub : BIMSTEC
KOLKATA : The first Technical session of BIMSTEC on Saturday hailed the member countries for having a master plan to develop maritime communication among the seven nations and marked Kolkata as a centrepiece for connectivity among member nations.
The session titled–BIMSTEC: Strengthening Regional Solidarity through Transport Connectivity, saw the Chair of the session Sanjeev Ranjan, Chairman, National Shipping Board, said: "I think is a new development which has happened. The BIMSTEC for the purpose of strengthening regional solidarity and transport connectivity has been active and thanks to that we have a master plan in place which has been accepted which gives the detail."
"We have a clear master plan which covers areas of road transport, railways, ports, inland waterways and it also very familiarly touches upon the need for multi model connectivity and promoting ease of doing business and making transaction simpler and also the need for developing human resource," he added.
Constantino Xavier, Research Fellow, Centre For Social and Economic Progress, CSEP, New Delhi said: "Kolkata should strive to become the connective capital of India. This is a city that is deeply tied to the Bay of Bengal, the Himalayas, the Eurasian Hinterland, to the Indian Ocean region, to South East Asia, and East Asia, so certainly this is if not one among but deep most prophecies place for us to discuss connectivity and hopefully, Kolkata can reclaim its place historically over centuries as a connectivity hub for Asia."
"BIMSTEC is focussed on building green and resilient supply chains with integrated digital network to reduce waiting and facilitate decarbonisation, standardised and digitized documentation for trade facilitation, adoption of the Maritime Single Window for seamless movement and modernisation with emission targets for smaller vessels and tugs," he said.
He also talked about BIMSTEC's efforts towards sustainability: "Significant efforts through Sagarmala, PM Gati Shakti, National Logistics Policy, Comprehensive Port Connectivity Plan, IBP, etc. have been made towards sustainability and improving maritime connectivity via suitable infrastructure and policy interventions for boosting trade."
Xavier stressed on the need to further strengthen linkages between countries via waterways and coastal shipping and focus on sustainable and green maritime sector apart from cost-efficient transport via waterways and coastal shipping.
Posh Raj Pandey, South Asia Watch on Trade Economics and Environment (SAWTEE), Nepal, talked about understanding connectivity, status of transport connectivity in BIMSTEC region and key concerns in promoting transport connectivity.
Talking about the importance of connectivity, he said: "Better connectivity increases competitiveness and trade volume as well as reduces transport costs thereby promoting economic growth, social integration, and development. In a globalized world, it promotes trade in parts and tasks and integrates in global value chains and enhances human development within and between countries by allowing people to have better access to jobs, education and health. The additional dimension of communication in BIMSTEC is to serve as a bridge between South and Southeast Asia."
He, however, raised a concern too for the landlocked countries like Nepal and Bhutan.
He said: "As a result of lack of direct sea access, transport costs are about 50 percent higher for landlocked countries. Moreover, landlocked countries trade less and experience weaker growth than maritime countries. They are also more vulnerable to external shocks."
Mahfuz Kabir, Research Director, Bangladesh Institute of International and Strategic Studies (BIISS), Dhaka, said: "Connectivity is one of the broad in seven of the big co-operation. in fact, seamless multimodal connectivity. So that's a co-spirit of the master plan. Road, rail, maritime, Indian water connectivity so these are basically their code but there are some soft areas for transport connectivity so basically these are their framework itself."
"The monitoring of implementation and the timely implementation of the projects with a definite quality will be the real success of the masterplan. One of the important things is that they are non-binary on the newest states, which are already identified and some of the projects are reacclimated by the member states and then finalised by the member states. Definitely, there are prime lines in strengthening and deepening connectivity. So, it's a flexible kind of structure," he added.
BIMSTEC, established in June 1997, was then known as BIST-EC and named after its founding member states of Bangladesh, India, Sri Lanka and Thailand