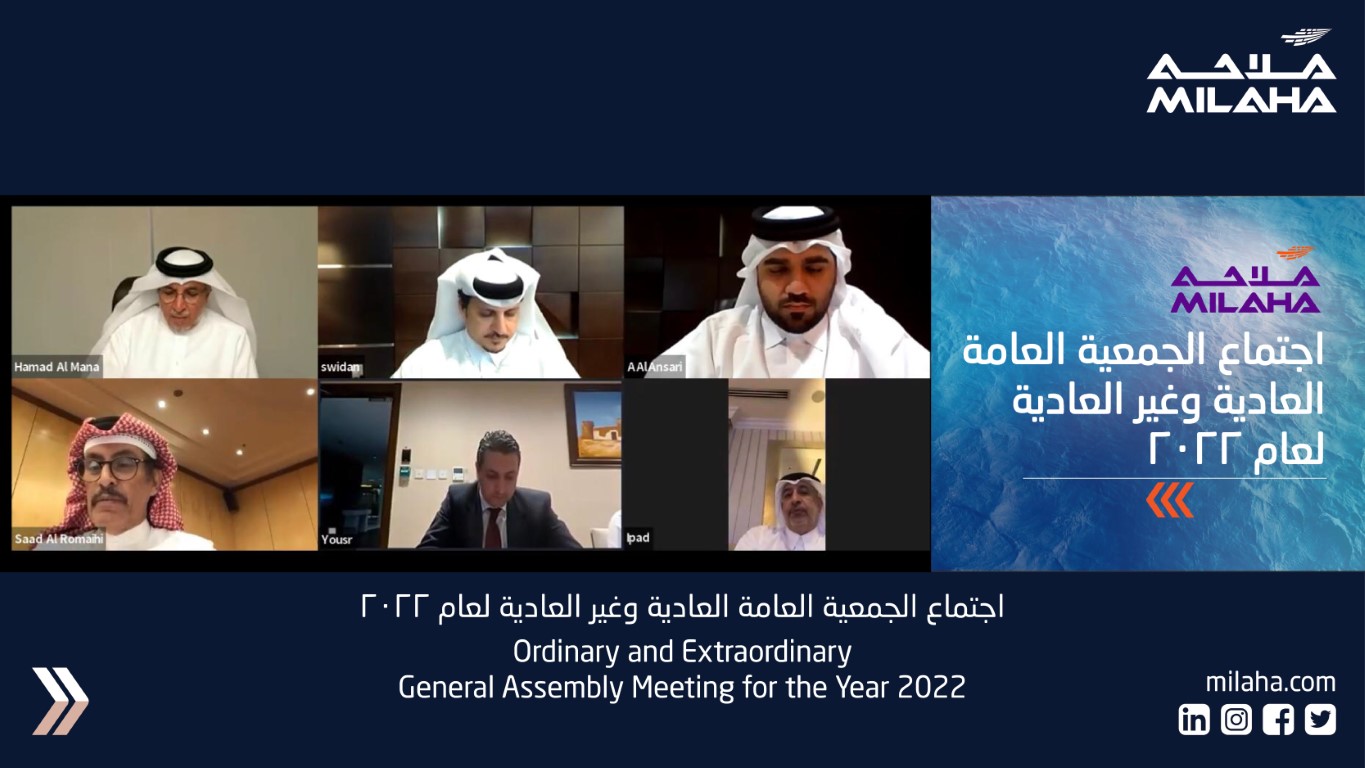 Milaha's Ordinary and Extraordinary General Assembly Meeting approved distribution of 35% Cash Dividend
DOHA : Qatar Navigation Q.P.S.C. ("Milaha") held its Ordinary and Extraordinary Annual General Assembly Meeting virtually, on 12th March, at the Company's headquarters, during which the Shareholders approved Ordinary General Assembly Meeting agenda, including the company's audited financial statements for the fiscal year ended December 31, 2022.
The Ordinary General Assembly Meeting ratified all items on its agenda including the proposal of the Board of Directors to distribute a cash dividend of 35% of the nominal share value, equivalent to QR 0.35 per share. The Ordinary General Assembly also approved assigning "Pricewaterhouse Coopers" as Auditors for the year 2023.
Addressing the meeting, H.E Sheikh Jassim bin Hamad bin Jassim bin Jaber Al-Thani, Chairman of Milaha's Board of Directors, presented an overview of the Company's activities and consolidated financial results, as Milaha reported a net profit of QR 1.013 billion in 2022, compared to QR 724 million in 2021.
In his speech, H.E the Chairman of the Board of Directors commended that the financial results witnessed significant breakthroughs and steady increases in profit ratios. As for the operational side, there is a significant development in quality of services and core business provided by Milaha, which has been reflected positively on the Groups financial and operational performance.
The Extraordinary General Assembly ratified the increase of the percentage of Non-Qatari ownership in the company's capital from 49% to 100%, after obtaining all the necessary approvals from the concerned authorities. Authorizing H.E. Chairman of the Board of Directors to complete all the necessary procedures.
We would like to draw the attention to Milaha's Shareholders that dividend distribution will commence on Monday March 13, 2023, through all Qatar National Bank (QNB) branches. QNB will provide full support services to ensure Shareholders can efficiently collect and manage their earned dividends.