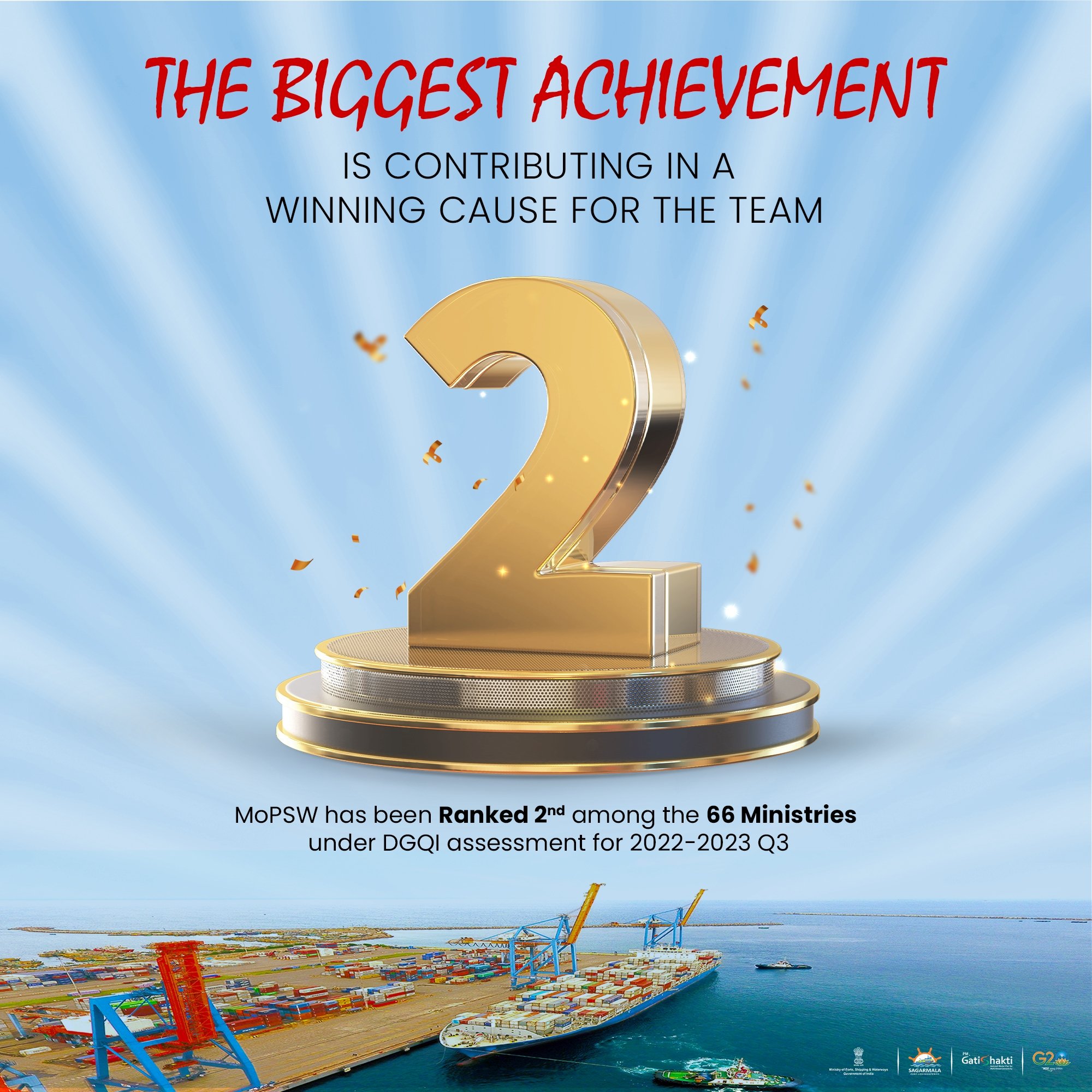 Ministry of Ports, Shipping and Waterways ranked 2nd on Data Governance Quality
NEW DELHI : The Ministry of Ports, Shipping and Waterways (MoPSW) has secured the second position among 66 ministries in the highly influential Data Governance Quality Index (DGQI) assessment for 2022-2023 Q3. The shipping ministry has achieved an impressive score of 4.7 out of 5, further highlighting its commitment to excellence in data governance, a government press release said on Saturday.
Conducted by the Development Monitoring and Evaluation Office (DMEO), NITI Aayog, the DGQI survey aims to measure the maturity level of administrative data systems and their use in decision-making of various ministries and departments on the implementation of Central Sector Schemes (CS) and Centrally Sponsored Schemes (CSS). It also identifies reforms to reach the frontier of seamless data exchange and its synergistic use within the ministry, while defining clear pathways to achieve these goals.
"The effort of DMEO, Niti Aayog, to bring out such a report card of the Ministries / Departments is highly appreciable. It will immensely help improve the implementation framework of government policies, schemes, and programs to achieve the desired goals," said Union Minister for Ports, Shipping & Waterways, Shri Sarbananda Sonowal.
The DGQI assessment encompasses six pivotal themes, including Data Generation, Data Quality, Use of Technology, Data Analysis, Use and Dissemination, Data Security and HR Capacity, and Case Studies.
MoPSW said its success in the DGQI assessment is assisted by the concerted efforts of the National Technology Centre for Ports, Waterways, and Coasts (NTCPWC) at IIT Madras, which was tasked with improving its Management Information System (MIS) in compliance with DGQI standards.
Notably, the NTCPWC is developed under Sagarmala by MoPSW as a technology arm of the MoPSW. The DGQI has assessed the MIS portals for five schemes of MoPSW – Sagarmala, Research and Development, Shipping, ALHW, IWAI & IWT – to enhance data flow, increase data quality and by incorporating emerging technologies such as AI/ ML.