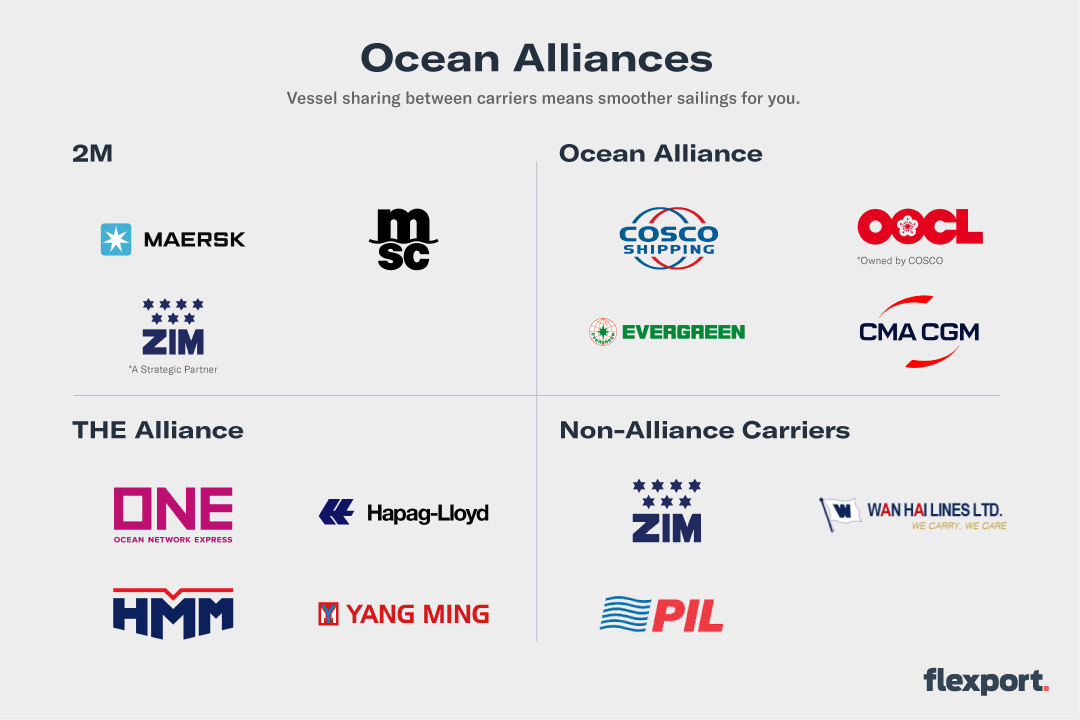 More than 50 sailings from Asia to Europe blanked in first seven weeks
The three vessel-sharing alliances have cancelled a colossal 53 Asia-Europe westbound sailings in the first seven weeks of this year.
According to an Alphaliner analysis, this represents 27% of their original scheduled capacity.
And carriers could decide to blank more sailings if demand is worse than expected after the Chinese New Year holiday, which commences on Saturday.
Ocean Alliance members CMA CGM, Cosco, OOCL and Evergreen have voided 23% of their Asia-Europe headhaul voyages scheduled for 1 January to 17 February, according to Alphaliner, with 22% of their sailings for North Europe and 25% of its Asia-Mediterranean voyages also culled.
The 2M partners, MSC and Maersk, have blanked 24% of their westbound sailings in the seven-week period, although for North Europe, the alliance has skipped 29% of its advertised sailings, compared with just 14% of its Asia to Mediterranean voyages.
However, THE Alliance members, Hapag-Lloyd, ONE, Yang Ming and HMM, have the largest percentage of voided sailings, having removed 36% of their proforma sailings during the period.
The consultant partly attributes this to THEA's strategy of diverting some backhaul voyages from North Europe via the Cape of Good Hope to save Suez Canal toll fees. Alphaliner said: "This detour adds two weeks of steaming to the trip and therefore leads to later arrivals back in China."
THEA cancelled 34% of its North Europe calls and, surprisingly, 38% of its Asia to Mediterranean sailings, despite spot rates on the latter route holding significantly higher. This had prompted the 2M last week to announce it had reinstated a blanked call on the route.
Preliminary statistics from Container Trade Statistics for November reveal cargo volumes from Asia to Europe fell 18.4% after a slump of 25.9% in October, but there are suggestions that the data for December could turn out to be much worse.
Indeed, Evergreen's 24,000 teu Ever Atop, on its maiden voyage, was only about 60% full when it arrived at its first North European destination port in mid-December.
And North European hub ports that had been overwhelmed by the enormous exchanges from the arrival of ULCVs earlier in the year, were suddenly congestion free, with several of their gantry cranes raised awaiting the next call.
Nevertheless, Maersk today urged its customers to closely monitor their inventory, as it warned there could be "whiplashes in stocks and supply chains before stock levels normalise".
It warned: "These fluctuations may cause disruptions in the availability of goods and materials, which can lead to delays in production and delivery times.
"By being proactive and prepared, customers will be better equipped to navigate the potential challenges that may arise in the coming year and adapt to the changing market conditions," it added.
Maersk said it was "expecting a normalisation in stock levels, economic outlook and consumer habits", but conceded that "it is uncertain exactly when this will occur"