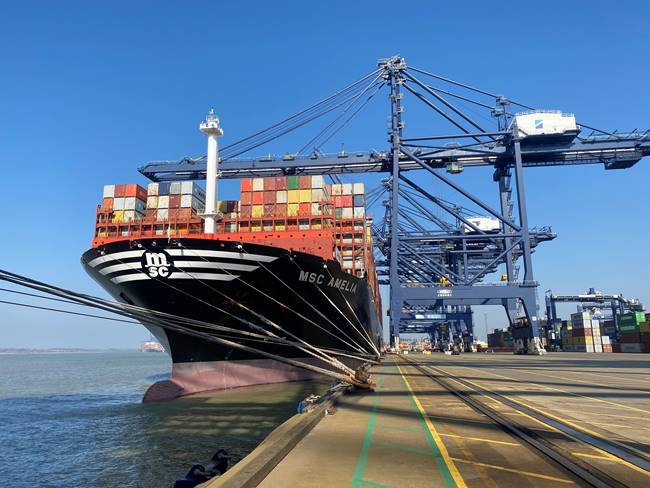 MSC adds Contecon Manzanillo to Far East-US service
GENEVA : Contecon Manzanillo S.A. (CMSA), a business subsidiary of International Container Terminal Services Inc. (ICTSI), is now part of Mediterranean Shipping Company's (MSC) Santana service.
MSC has picked Manzanillo as the preferred eastbound way port for its Mexican operations under the Santana service shifting from its westbound stop at Lazaro Cardenas. This reinforces Manzanillo's position as the preferred gateway for Mexican trade to the Far East, quotes ICTSI's latest statement.
The recent inaugural call of the 13,102 TEU MSC Vega to Manzanillo kicked off the change in the Santana service, which connects the Far East with the East Coast of the US.
Furthermore, MSC will replace Port Everglades and Baltimore with stops at US ports such as New York and Norfolk. As part of the move, MSC vessels will return from Norfolk to Thailand via the Suez Canal, thereby ending the westbound call at Lazaro Cardenas.
However, the Santana service will continue to make regular eastbound way port calls at the Port of Manzanillo.
According to ICTSI, the revised port rotation is as follows:
Laem Chabang – Cai Mep – Ningbo – Shanghai – Busan – Manzanillo – Cristobal – Caucedo – New York – Norfolk – Laem Chabang
While a mix of vessels with capacities ranging from 6,350 to 15,000 TEU is currently deployed, future schedules indicate sailings exclusively featuring 13,100 to 15,000 TEU Neo-panamax vessels.
José Antonio Contreras, Contecon Manzanillo Chief Executive Officer, said: "Our partnership with MSC and their strategic decision to prioritise Manzanillo highlight the critical role we play in facilitating efficient trade flows.
"Manzanillo is the gateway of choice for trade to the Far East, and we are committed to supporting the growth and success of the Mexican trade industry."
In June, port terminals and operators in Manzanillo united to create the Association of Terminals and Operators of Manzanillo (ASTOM).