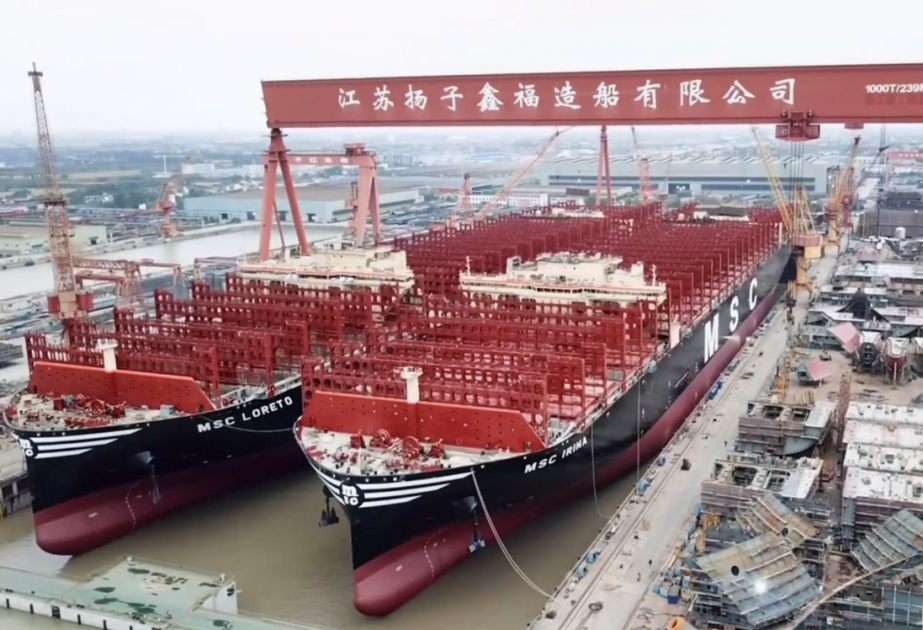 New massive 24K TEU MSC Loreto sets sail from Yangzijiang Shipbuilding
BEIJING : World's largest containerships global fleet has expanded once again, with the addition of another 24K TEU vessel, MSC Loreto.
The vessel was built by Yangzi Xinfu Shipbuilding, a subsidiary of Yangzijiang Shipbuilding Group for China's Bank of Communications Financial Leasing (Bocomm Leasing) and MSC Mediterranean Shipping Company.
MSC Loreto is part of a series of six ships, all of which are being built by Yangzi Xinfu, and is the second ship from the series to be delivered.
Namely, last month the Swiss-based container shipping giant welcomed into the fleet a massive 24,346 TEU MSC Irina, which was built by Jiangsu Yangzi Xinfu Shipbuilding Co. Both ships were launched in October 2022.
Like its sister vessel, MSC Loreto has an actual loading capacity of 24,346 TEU, and is equipped with modern technology and features that make it energy and fuel efficient.
The containership boasts a total length of 399.99 meters and a width of 61.3 meters. The ship's deck area spans a massive 24,000 square meters, which is equivalent to 3.5 standard football fields. The vessel has a depth of 33.5 meters, a structural draft of 17 meters, and can reach a service speed of 22.5 knots. It has been classed by DNV.
The ship incorporates several innovative energy-saving features, including a small bulbous bow, large-diameter propellers, and energy-saving ducts.
Data from Vessels Value shows that the owner of the vessel is actually Seaspan Corporation and MSC is the operator of the ship.
Seaspan placed an order for two 24,000 TEU newbuild containerships back in February 2021 without disclosing the name of the shipbuilder or the charterer backing the order. The company only said that both conventional fuel vessels will enter 18-year charters with a global liner customer and that they would include emissions reduction technologies.