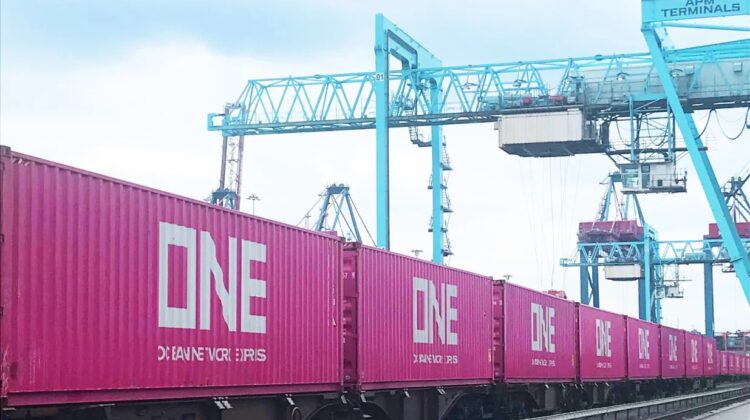 New, sustainable direct link from Malungsfors to the world via APM Terminals Gothenburg

---
GOTHENBURG : On 13 August, the first, entirely new rail shuttle rolled out from APM Terminals in Gothenburg for onward travel to Malungsfors, adding another direct link from Central Sweden to the world.

The newly started rail shuttle between Malungsfors and APM Terminals in Gothenburg is the result of a collaboration between Träfraktkontoret, Fiskarheden and ONE (Ocean Network Express}.

Träfraktkontoret, originally focused on transporting sawn timber overseas, has now developed its concept and business idea to be a one-stop logistics supplier of forestry products. As part of this journey, they have started a train shuttle between Malungsfors and Gothenburg together with their customer Fiskarheden.
Major environmental benefits and more reliable container flows
"Previously, we drove these volumes to Gävle by lorry and then on with feeders from there. Together with Fiskarheden, we see major environmental benefits and a more secure container flow by instead utilising rail to Gothenburg. It is no secret that ports that do not have natural imports are struggling, especially during the challenging times that the logistics industry is currently experiencing, which is why it is smoother to go through Gothenburg, which is also geographically well-placed," explains Ludwig Lövström, Sales Manager at Träfraktkontoret i Göteborg AB.

"It is now a natural step for us to become a train operator in this solution as we believe that our customers should have the opportunity to devote themselves to their core business while we take care of the logistics," he continues.
"Together with their partners, Fiskarheden has done a solid job of starting up the terminal in Malungsfors, which naturally simplifies handling," he explains.
Replaces 22 trucks per transport
"APM Terminals in Gothenburg has high capacity and availability for several shipping companies, while through this solution, we are reducing emissions by about 800 kg CO2 per container, or 22 trucks per transport. We believe in this rail solution and hope that more people will get onboard and that the region and government will help expand the rail network to make it even easier to transport goods," says Joakim Limberg at Fiskarheden.

"The greatest benefit of this solution is the environmental savings, which I think is a strong and important statement from Fiskarheden," says Ludwig Lövström.

"The rail and ship combination is unbeatable when it comes to sustainable, reliable and efficient logistics solutions, and we are very pleased that Träfraktkontoret and ONE are utilising the potential of offering Malungsfors industry a direct link to the world market," concludes Magnus Lundberg, Commercial Manager at APM Terminals Gothenburg.
Source : APM Terminals
---