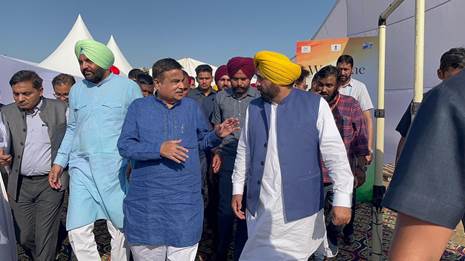 Nitin Gadkari reviews progress of Delhi Amritsar Katra Expressway and Amritsar Bypass in Punjab
NEW DELHI : Union Minister for Road Transport and Highways Shri Nitin Gadkari inspected the Delhi-Amritsar-Katra Greenfield Expressway (DAK) and Amritsar Bypass during his stay in Punjab. The Punjab Public Works Department Minister, Shri Harbhajan Singh ETO and Member of Parliament from Amritsar, Shri Gurjit Singh Aujla were also present during the inspection.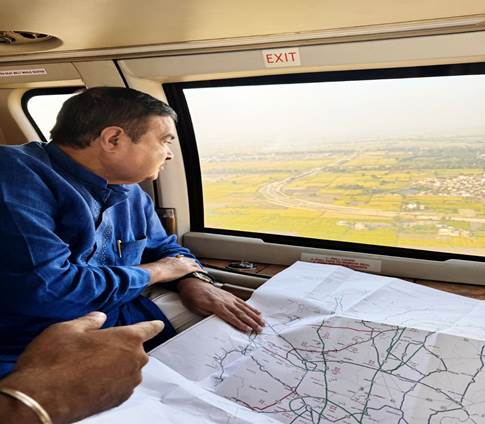 Five greenfield and economic corridors are being built in Punjab at a cost of Rs 29,000 crore. This 669 km greenfield expressway Delhi-Amritsar-Katra is being built at a cost of Rs 40,000 crore. With its construction, one can reach Amritsar from Delhi in 4 hours and Katra from Delhi in 6 hours. Presently, the distance from Delhi to Katra is 727 km, with the construction of this route the distance will be reduced by 58 km.
Starting from KMP in Delhi, this expressway is being built for 137 km in Haryana. The length of this expressway in Punjab is 399 km, of which work has started on 296 km. The length of the expressway in Jammu and Kashmir is 135 km, of which work is going on in 120 km. In Punjab, this expressway will pass through industrial areas like Patiala, Sangrur, Malerkotla, Ludhiana, Jalandhar, Kapurthala, Gurudaspur.
A major feature of this corridor includes Asia's longest 1300 meter long cable stayed bridge over the Beas River. This expressway will connect the major religious places of the Sikh community, the Golden Temple, Sultanpur Lodhi Gurdwara in Kapurthala district, Goindwal Sahib Gurdwara, Khandur Sahib Gurdwara, Gurdwara Darbar Sahib (Taran Taran) till Mata Darbar Vaishno Devi in Katra.
The work of 50 km, 4-lane Amritsar bypass being built at a cost of Rs 1475 crore is in progress. With its construction, there will be better connectivity from Tarn Taran to Amritsar Airport. This bypass will prove effective in solving the traffic problem of Amritsar. This route will improve the connectivity, transportation and infrastructure of Amritsar.