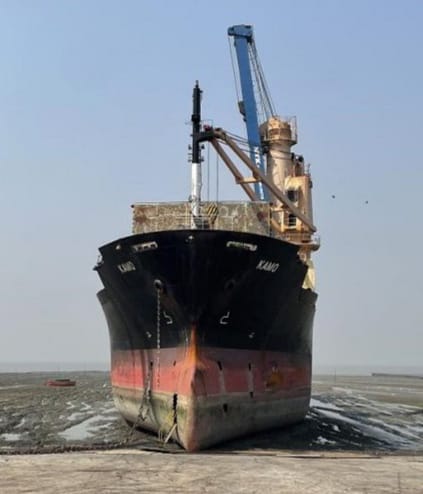 NYK creates history with sale of first vessel for green recycling
TOKYO : Nippon Yusen Kaisha (NYK) has sold its 1998-built multipurpose (MPP) vessel Kamo to PHP for recycling in line with the Hong Kong Convention for the Safe and Environmentally Sound Recycling of Ships (HKC).
Chattogram-based PHP Ship Breaking and Recycling Industries said it has become the first ship recycling facility in Bangladesh to receive a ship from Japan.
NYK, which conducts ship recycling at class society-certified yards, of which 30 are in India, three in China, and one in Turkey, said PHP has met its standards for ship recycling measures "pertaining to the environment, safety, occupational health, and respect for human rights".
Mohammed Zahirul Islam, Managing Director at PHP ship breaking and recycling industries, hailed the deal with NYK as "a historic moment for PHP and Bangladesh," with PHP adding that "acknowledging the efforts of the nation, PHP SRF and partners toward the ratification of HKC, PHP Family believes that this step further will encourage safer and greener ship recycling practices in Bangladesh".
The HKC was adopted by the International Maritime Organization (IMO) in 2009, and PHP Family's recycling yard was, until recently, the only one in Bangladesh holding a statement of compliance.
Earlier this month, SN Corporation's shipbreaking yard was awarded HKC compliance by Japan's ClassNK under Dubai-based cash buyer Global Marketing Systems (GMS)'s Sustainable Ship & Offshore Recycling Program (SSORP).