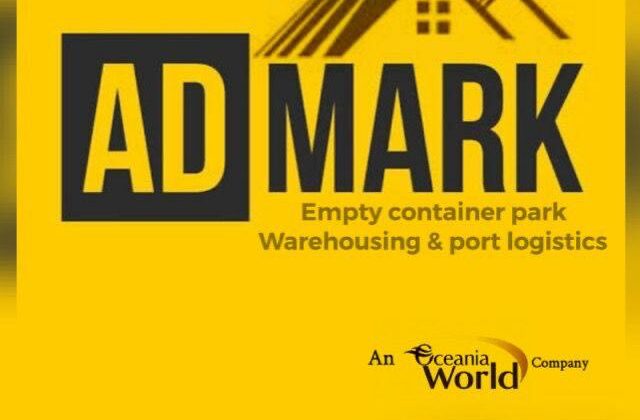 Oceania World launches Multimodal Logistic Park with State-of-the-Art facility at Mundra
l

---
MUNDRA : Oceania World, ventures into a new league with the launch of their state-of-the-art multimodal logistics park facility in Mundra through its port logistics & warehousing sibling – Admark Warehousing and Port Logistics Pvt Ltd.
The MMLP facility is fully developed in four acres land capacity with a potential to further develop into a full fledged container freight station with total 17 acres land available, abutting the main road leading to Mundra Port. It facility has both covered warehousing space as well as open space to accommodate various types of containerised, bulk and break-bulk cargoes. The facility is ideally located close to the Mundra Port and serves port users (exporters and importers) from the western and northern hinterlands of India. Admark has developed local offices at Delhi (north India) which is led by Sourav Agnihotri (client manager, north), Hazel Simon (client manager, west) while Divya Rajsinh (Astt. General Manager) holds fort at Mundra along with the yard and M&R team to embed this concept and facilitate exporters.
For decades, India's logistics infrastructure has lagged development. Compared to other countries, India companies have had to fork out significantly more as logistics spend to store their products or keep it ready to be shipped. With the development of both road and port infrastructure, warehouses too have evolved. As warehouses proliferate, they have also become sources of job creation for the local population. For most low-level tasks in logistics, it is easier to train the local workforce as it builds goodwill locally for these companies.
Speaking on the occasion, Shine Jacob, CEO, Admark Warehousing and Port Logistics Pvt Ltd said, "This facility provides short term and regular storage solutions and value-added services. Merchant exporters (traders) who source their products from different parts of the country can use this facility to store their products, segregate / aggregate and repack them before exporting. Owing to worldwide port congestions, schedules of cargo vessels are badly affected leading to delays as long as two to three weeks. Exporters can avail our facility as a transit storage instead of keeping the cargo on trailers on the roadside. This is a more secure and cost-effective solution."
"On the other hand, importers can use this facility for regular storage of imported goods before moving them to hinterlands for consumption. The facility also offers value-added services for shippers including kitting and final assembly, grading, sorting, labelling, packaging activities, reworking, and returns management," he added.
"The development of multimodal logistics parks at strategic locations is envisaged as a key policy measure to rationalize cost of logistics in India and improve its competitiveness. The COVID-19 pandemic has highlighted the need for greater regionalization of the supply chain. The development of MMLPs at strategic locations in different regions can help in developing the supply chain in a more agile and cross- functional way. The MMLPs can provide (i) infrastructure for enabling seamless multimodal freight transfer; (ii) mechanized warehouses and specialized storage solutions such as cold storage; (iii) mechanized material handling and intermodal transfer to container terminals, and bulk and break-bulk cargo terminals," he said.
About Oceania World
Oceania Word is a group of companies diversified into multiple aspects of total supply chain solutions. Originated from Mumbai their services range from handling raw material logistics, warehousing, finished goods logistics, bulk/ break bulk, distribution, port logistics, freight forwarding, Customs clearance and other valued-added services.
The group also operates a Global business and staffing, UNBOXED ALLIANCE PVT LTD which has its office at Australia and presence across Europe catering to multinational IT companies.
As CSR the group also operates a NGO " SAMMAN FOUNDATION TRUST " working exclusively for underprivileged women and skill development.