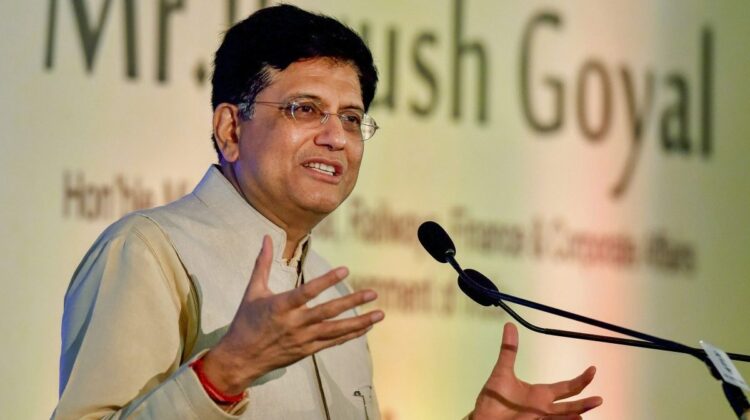 PM GatiShakti used extensively while evaluating proposals received under PM MITRA : Piyush Goyal
NEW DELHI : PM GatiShakti was used extensively while evaluating the various proposals we received under the PM Mitra Programme and it helped us validate the selected and winning locations. This is a testament to India's technology driven transparent governance, said Shri Piyush Goyal, Union Minister for Textiles, Consumer Affairs, Food and Public Distribution and Commerce and Industry while virtually addressing a national conference on Geo Textiles.
"In line with the Hon'ble Prime Minister's vision of five F: from Farm to Fiber to Factory to Fashion to Foreign, seven mega textile parks under the PM Mitra Scheme have been announced to be set up in Tamil Nadu Telangana, Karnataka, Maharashtra, Gujarat, Madhya Pradesh and Uttar Pradesh. I would like to congratulate all the winning states," Shri Goyal said
He said that India is the 5th largest producer of technical textiles in the whole world with a market size of nearly $22 billion, which we hope to build up to $300 billion when we turn 100 by 2047.
Stressing on the increasing global demand for geotextiles, Shri Goyal said that with robust growth in infrastructure that is being created in India, he believes that significant contribution will be done to increase market potential in the Geo Textiles and Technical Textile sector. Thus, considering the growth of the sector, substantial efforts have been made to proactively address the challenges of this industry and facilitate the creation of an enabling environment. He quoted reforming schemes like the production linked incentive scheme, PM Mitra Park Scheme spoke about the National Technical textiles mission and various ease of doing business initiatives, various initiatives to make it easier for businesses to work and operate in India make line available to our industrial parts, all of which will help transform India from only a traditional textile industry to a technical textile and MMF (man-made Fibre) hub in the world.
Shri Goyal said that India demonstrated its resilience to adversity during COVID before the world. "Textiles is one crucial sector that supported us during COVID where we could individualistic develop, PPE kits, masks, several rapid testing kits so that from a net importer of several of these products, we have dramatically expanded our capabilities to become exporter of medical textiles," he added.
He said that today's conference dovetails with the PM GatiShakti national master plan, launched in 2021 under the guidance and implementation of Hon'ble Prime Minister Shri Narendra Modi. It is aimed at providing multimodal connectivity and last mile infrastructure to various industrial and economic zones and is now also being extensively used in our effort to expand social infrastructure to the remotest corners of India. He thanked PM GatiShakti project, because of which infrastructure projects are being fast tracked with faster approvals. With more holistic planning and the implementation will become far more judicious and scientific so that no problems of cost and time overruns occurs during implementation of the infrastructure projects.
Shri Goyal said that this will also expand our own investments in infrastructure and create a bigger market for use of geotextiles in the years to come. These geotextiles will be used in roads, bridges, highways, railways, airports, ports, and help us in improving the quality and increasing the lifespan of such infrastructure significantly.
"India today is aspiring to take its technical that says market to at least $40 billion in the next four or five years. While it is a huge task, we believe we can achieve it provided we all work together. We will need to focus a lot on improving our productivity at the manufacturing and supply chain levels. We like to introduce economies of scale and also work on research and development to innovate and come up with attractive new products which are in the future going to become global plans," he said.
Adding on, Shri Goyal said that for this purpose, robust inter-ministerial coordination is happening, which will pave the way for the development of the technical textiles market in India. He said that PM is continuously encouraging convergence, convergence within the government, convergence with universities and industry, convergence with scientists and researchers, convergence with exporters, so that all can really focus on dramatically expanding the usage and demand for Geo Textiles in the years to come.
He said that the efforts to encourage young engineering minds to pursue technical textiles in their entrepreneurial efforts, or in the startup ecosystem. They'll help in taking this sector forward. Technical Training under the SMARATH Scheme is also offered to enhance the skill of youngsters. In fact, for the Technical Textile industry, there are additional funds under the NTTM (National Technical Textiles Mission) and so that our target of two lakh persons being trained in technical textiles and Geo Textiles every two years becomes a reality. He said that he believes that the real growth phase of this industry is yet to start.
"The coming decade can prove to be the golden decade for the geotextiles industry with large scale investments both in infrastructure and manufacturing activities. This is the right time for us to capture world markets with growth, economies of scale, speedy implementation of projects and high quality products suitable for the best customers across the world. I can assure you this deeply committed to working with all stakeholders to generate demand, strengthen research, breakout due applications for technical textiles, promote startups to bring innovation in fact, bring that growth momentum that all of us are eagerly looking towards and working for," he said.
He added that everyone will have to work with a sense of duty, imbibing the principle of set which Prime Minister Modi had articulated Zero Defect, Zero Effect. He said that if we adopt Zero Defect, Zero Effect in our lives and our business and make quality our mantra, then he is sure that there's a very bright future for the industry in the years ahead. He gave called upon the participating delegates and said, "Let us together aspire to make India self-reliant. And at the same time, ensure Indian becomes a global leader in the sector and a trusted partner for companies and countries around the world."
He said that this event is being organised at the most opportune time when India is to achieve G20 presidency. He added that it is indeed India's moment to foster stronger partnerships with other countries and global companies around the world. He said that today's event is a major milestone in this direction of creating a leap encouraging dramatic growth in the technical geotextile sector. He said that the event will be a huge success in achieving in the efforts to give a boost to the industry and sector and will help in achieving the vision for India becoming a developed nation by 2047.