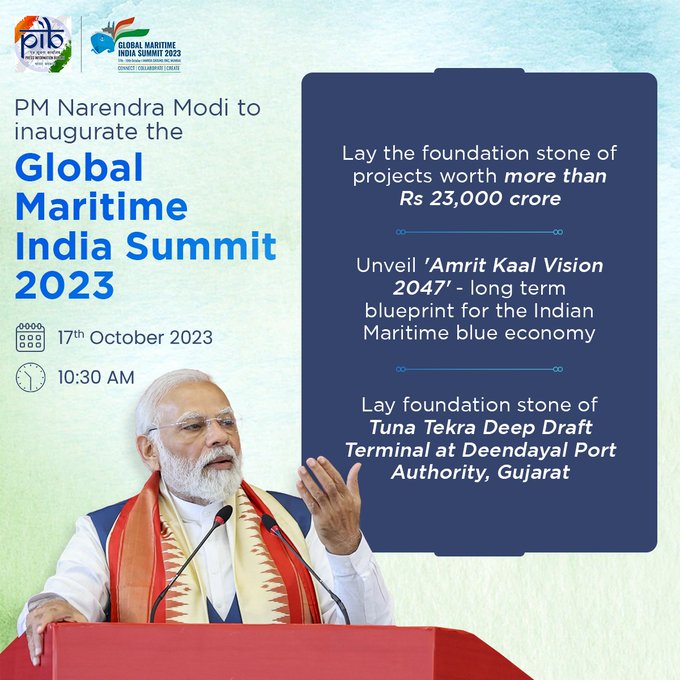 PM to inaugurate the Global Maritime India Summit 2023 today
NEW DELHI /MUMBAI : Prime Minister Shri Narendra Modi will virtually inaugurate the third edition of the Global Maritime India Summit (GMIS) 2023 today,17th October, 2023 at around 10:30 AM via video conferencing. The summit will be held from 17th to 19th October at MMRDA Grounds in Mumbai.
During the programme, Prime Minister will unveil 'Amrit Kaal Vision 2047', the long term blueprint for the Indian maritime blue economy. The blueprint outlines strategic initiatives aimed at enhancing port facilities, promoting sustainable practices, and facilitating international collaboration. In line with this futuristic plan, Prime Minister will inaugurate, dedicate to nation and lay the foundation stone of projects worth more than Rs 23,000 crore, that are aligned with the 'Amrit Kaal Vision 2047' for the Indian maritime blue economy.
Prime Minister will lay the foundation stone of Tuna Tekra all-weather deep draft terminal, to be built at a cost of more than Rs. 4,500 crore at Deendayal Port Authority in Gujarat. This state-of-the-art greenfield terminal will be developed in PPP mode. The terminal, which is likely to emerge as an international trade hub, will handle next-gen vessels exceeding 18,000 twenty-foot equivalent units (TEUs), and will act as a gateway for Indian trade via  India-Middle East-Europe Economic Corridor (IMEEC).
Prime Minister will also dedicate more than 300 Memorandums of Understanding (MoUs) worth more than 7 lakh crore for global and national partnership in the maritime sector, during the programme.
The summit is the biggest Maritime Event in the country. It will witness participation of Ministers from across the globe representing countries from Europe, Africa, South America, Asia (including central Asia, Middle East and BIMSTEC region). The summit will also be attended by Global CEOs, Business leaders, Investors, Officials, and other stakeholders from across the world. Further, several Indian states will also be represented in the summit by the Ministers and other dignitaries.
The three day summit will discuss and deliberate key issues of the maritime sector including ports of the future; decarbonisation; coastal shipping & Inland water transportation; shipbuilding; repair and recycling; finance, insurance & arbitration; maritime clusters; innovation & technology; maritime safety and security; and maritime tourism, among others. The summit will also provide an excellent platform for attracting investment in the maritime sector of the country.
The first Maritime India summit was held in 2016 at Mumbai. The Second Maritime Summit was held virtually in 2021.