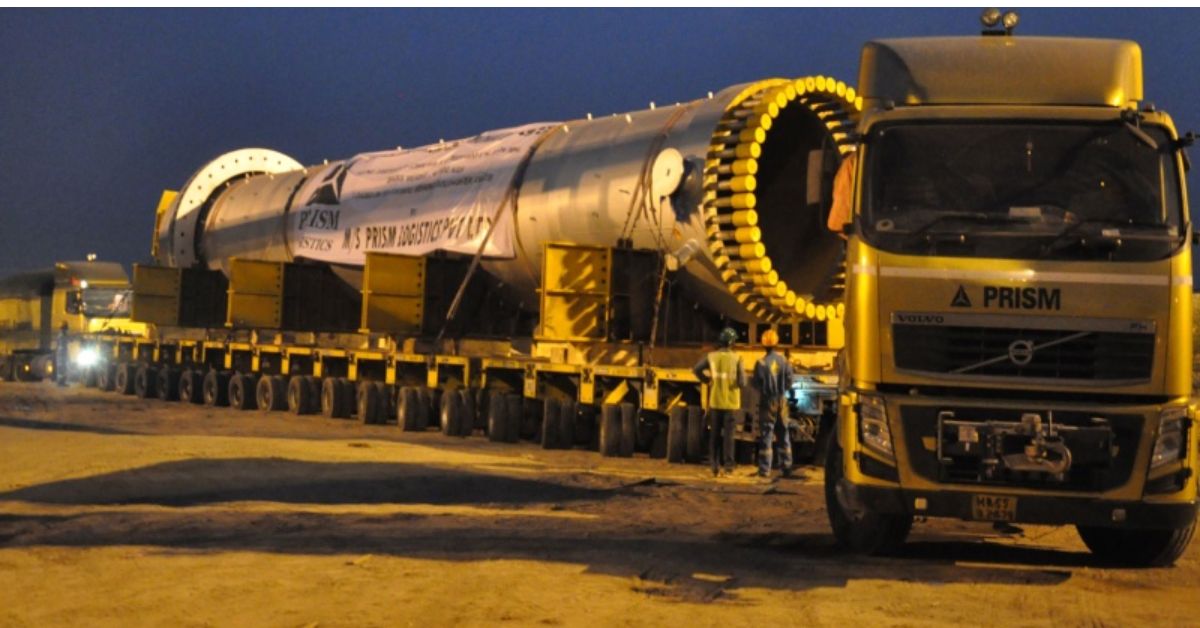 Prism Logistics carry out multimodal project for Barmer refinery
KOLKATA : Kolkata-based project cargo transport specialist Prism Logistics Pvt Ltd pulled off what is said to be India's most extensive long-distance multimodal transportation project – hauling 34 super heavy cargo units weighing up to 743 metric tons, with lengths reaching 55 meters and diameters up to 9.7 meters by a combination of sea and road – for the upcoming Barmer refinery in Rajasthan.
The value of the logistics contract is estimated to be over Rs 100 crore, per tender documents reviewed by a release. The multi modal movement of super over dimensional cargo, supplied by Larsen & Toubro Ltd, had two components – One, transporting the project cargo from Mangalore, Hazira, and Dahej – to Mundra Port run by Adani Ports and Special Economic Zone Ltd in Gujarat. Subsequently, the cargo was transported to the project site located in Pachpadra in Rajasthan's Barmer district, covering a road distance of 553 kms.
The entire logistics movement took close to a year to complete. And it was by no means a straightforward and simple transportation contract. The challenges were formidable, and the stakes were high with the end customer HPCL Rajasthan Refinery Ltd (HRRL) being helmed by one of India's biggest state-run oil firms, Hindustan Petroleum Corporation Ltd (HPCL), and given the huge investment involved in setting up a mega oil refinery in Rajasthan, the first greenfield refinery in the country in more than two decades.
HPCL Rajasthan Refinery Ltd (HRRL) is a joint venture between Hindustan Petroleum Corporation Ltd (HPCL) and Government of Rajasthan (GOR) with an equity participation of 74 percent and 26 percent, respectively.
The project involves setting up of a 9 million tonnes per annum greenfield refinery cum petro chemical complex at Pachpadra in Barmer.
The seamless marine transportation part of the contract comprising 34 packages, totalling 12,582 metric tons and 72,506 freight tons was carried out through six barge trips.
Prism Logistics chartered two self-propelled barges, MV DONGBANG GIANT NO 5 and MV DONGBANG GIANT NO 6, from Korea, each with capacities 9,000 metric tons (mt) and 15,000 mt, respectively. These barges navigated adverse weather conditions to transport the cargo from Mangalore and Hazira to Adani's Mundra Port.
The logistical complexities of the project necessitated substantial resources, including equipment, manpower, and funding.
Aditya Banka, Managing Director, Prism Logistics, highlighted the company's investment in assets and infrastructure, such as importing Kamag K25 model heavy-duty hydraulic axles from Europe and Goldhofer Self-Propelled Modular Transporters (SPMTs) – robust trailers designed for the transportation of exceedingly large and heavy items, such as power plant components, oil and gas equipment, and aircraft – to meet the project's demands.
The SPMTs consist of individual modules that can be configured to form a trailer of the desired size and carrying capacity. They possess their own propulsion systems, enabling them to transport heavy loads without requiring a separate towing vehicle. Their advanced independent steering and suspension systems grant exceptional manoeuvrability, making them ideal for navigating tight spaces and challenging terrain.
Overcoming the challenge of canal bridges and river crossings, Prism Logistics constructed 34 temporary bypasses with a cumulative length of over 15,000 meters in Rajasthan and Gujarat. This included building a bypass over a flowing river during the monsoon—a task that seemed insurmountable.
One example of the complexities of the project came when the convoy had to cross the Narmada River canal – the river provides water to Rajasthan from the neighbouring Gujarat – and Prism Logistics had to liaise with two state authorities to stop the water flow for 15 days for transport operations to take place.
Further engineering ingenuity was displayed in the construction of steel bridges to cross canal bridges with 48-meter widths. Prism Logistics executed a rapid steel trestle bridge fabrication in six weeks, contributing to the prompt execution of the project. Another steel modular bridge at Zazam Canal was commissioned in just five days, demonstrating Prism's commitment to innovation and efficiency.
Navigating railway shutdowns and manoeuvring 12 side-by-side hydraulic axles trailers on roads spanning over a kilometre convoy posed added challenges. The Prism Logistics ground team, led by Sanjay Sarode and E Rajan, effectively managed these complexities.
H S Acharya, Executive Director, Prism Logistics emphasized that this was India's most extensive long-distance multimodal transportation project, employing over 1,000 axles – a feat possibly unprecedented globally – to transport 34 Over Dimensional Cargo (ODC) packages across 7 convoys, encompassing a year of meticulous planning and execution.
Each of the 34 packages was loaded onto hydraulic axle trailers with configurations ranging from 14 axles to 52 axles per package, both in single lines of 3-meter-wide trailers and side by side in 6.3-meter-wide configurations.
A part of the axle fleet was sourced from the open market on long-term leases, which Prism Logistics operated directly.
"Timely and secure delivery held paramount significance in this project, given its national importance," says Acharya.
Prism Logistics listed the implementation of innovative strategies, such as the construction of two temporary steel bridges for canal crossings and a temporary bypass over a flowing river as one of the key takeaways from the project.
Acharya also alluded to the teamwork of over 500 personnel who remained dedicated to the project throughout its duration.
"We view this endeavour as a testament to our ability to overcome formidable challenges and achieve what might have seemed insurmountable, highlighting our collaborative efforts and problem-solving approach," he added.
The Barmer Refinery multi-modal transportation project won the 'Overland Transport Provider of the Year' award at the Heavy Lift Awards 2023 held in London on 25 October.
The Heavy Lift Awards, organized by Heavy Lift & Project Forwarding International (HLPI) magazine, is an annual event that recognizes excellence in complex logistics, transport, and engineering projects.