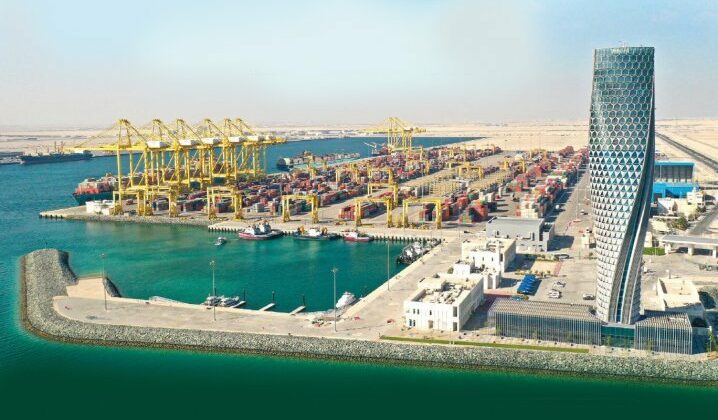 Qatar's ports see 67% rise in transshipment volume

---
QATAR : The ports of Qatar witnessed a growth of 67% in container transshipment volume in the first nine months of 2021 on year-on-year basis. The rise in volume shows that the country, especially due to Hamad Port, is fast becoming regional trade hub.
"Qatar's ports witnessed a 16% year-on-year rise in container handling during the first nine months of the 2021 with a 67% growth in container transshipment volume. General cargo, RORO, and vessels increased by 20%, 22% and 6%, respectively at Hamad Port, Doha Port and Ruwais Port," Mwani Qatar said in a tweet.
According to figures released by Mwani, 1,195,321 TEUs; 1,205,831 tonnes of general cargo; 56,205 RORO units; 243,587 livestock heads; and 453,766 tonnes of building materials were handled at three ports of the country from January to September 2021.
In another tweet, Mwani shared figures of last month's cargo handling at the three ports. "Mwani Qatar received 1,143,88 tonnes of general cargo in September 2021, an increase of 17% compared to the same period of last year. Container handling and building materials saw a growth of 7%, 15% respectively at Hamad Port, Doha Port and Ruwais Port."
The ports handled 128,761 TEUs; 114,388 tonnes of general cargo, 4,356 RORO units, 32,323 livestock heads; and 41, 722 tonnes of building materials in September 2021.
QTerminals' released figures regarding Hamad Port's performance of last month indicate that 'Qatar's gateway to the world' handled major chunk of cargo in September out of all three ports. It handled 126,150 TEUs; 111,712 tonnes of general cargo; 4,238 RORO units in September 2021. The Hamad Port received as many as 125 vessels last month.
Hamad Port had also achieved recently a milestone by hitting handling of six million containers mark.
The port since the start of its operations has also handled over 13 million freight tonnes of non-containerised cargo.
In August 2019, Hamad Port had been ranked among world's top 120 container ports. Hamad Port had been placed at number 114 in top 120 container ports ranking of 2018. The capacity of Hamad Port will reach 7.5 million TEUs annually on completion of all construction phases.
Hamad Port has a uniquely-designed port control tower at a height of 110 metres, a customs inspection area for rapid cargo clearance, a ship inspection platform and multiple maritime facilities, in addition to other utilities such as storage units, mosques, rest areas, medical clinics and the offices required for port operation.
---