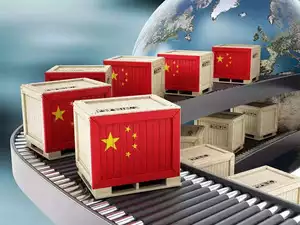 Quality crackdown to hit Chinese goods imports
NEW DELHI : Imports of Chinese goods could dwindle, posing problems for Indian industry, amid a surge in quality control orders (QCO) by the Indian government and compounded by uncertainty over when Chinese officials will open their manufacturing facilities for inspection following the recent covid-19 wave.
Inspections by the Bureau of Indian Standards (BIS) have become crucial, with India imposing mandatory certification on many products for which QCOs have been issued. The announcements of hundreds of QCOs now require customs officials to block products not compliant with Indian standards.
India has issued 115 QCOs so far, and orders on as many as 675 products across 14 ministries are under consideration.
QCOs are being applied to products ranging from air-conditioners and refrigerators to footwear, wheel rims, chemicals, and protective clothing for industrial workers.
The import delays may prove significant as China is India's primary source for a wide range of products, including pharmaceutical ingredients, chemicals, machinery, auto parts, and medical supplies. The total imports from China increased to $98.51 billion during the financial year ended March against $94.57 billion in the previous fiscal, as per official numbers released by the commerce and industry ministry.
"India is not blocking imports from China. The issue is that because of travel restrictions in China, inspections are not taking place. Chinese officials are yet to indicate the reopening of facilities for inspections. We have resumed inspection of all the countries whose embassies have written to us indicating their facilities are open for inspection. BIS can't give certifications without inspections," a government official said, requesting anonymity.
"India is not a big market for China, but for us, it is a critical item. We have given examples such as virgin fibre, low melt PSF fibre, and hollow conjugate fibre. So, to stop imports worth one rupee, we can't jeopardize 100 rupees worth of exports. Low melt fibre, for instance, is used in several other sectors, such as the automobile sector and not just textiles. Prices have gone up. Chinese exporters have begun taking retaliatory steps. They are saying they won't go for certification as cost is involved. India is 0.5% of their market. Why would they go through that pain?" a company executive, who declined to be identified,
"It must be added that even the industry is not prepared because they don't react unless they are penalized. Most industries don't have a policy team, and at least with the changes being brought about, some changes will come about," the company executive further added.
Anil Bhardwaj, Secretary-General of the Federation of Indian Micro and Small & Medium Enterprises (FISME), said that the products under quality control order are mostly consumer products and, therefore, MSMEs are not facing disruption on the import front.
"BIS does not have enough inspectors who would check MSME units in the country. Eventually, you will be able to stop imports from the select ports where Chinese products make their way to the country. So, imports will fall from China, which is what the government desires. In the short run, however, MSMEs that are manufacturing QCO products will feel the pain," Bhardwaj stated.
Ajay Srivastava, the founder of the Global Trade Research Initiative, said that only a limited part of China's imports enter the domestic market and that most imports act as inputs for making export products. Srivastava said that China follows several restrictive policies to curb imports. Queries send to the commerce ministry, consumer affairs ministry, and textile ministry remained unanswered till press time.