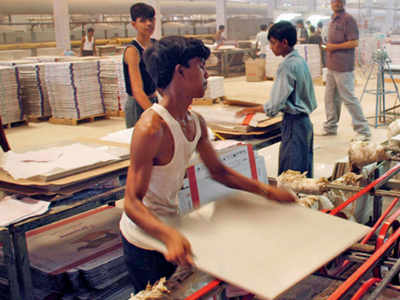 Rs 5k crore revival: 60 new plants in Morbi
AHMEDABAD : The ceramics hub of Morbi seems to have bounced back after some factories were shut down recently due to weak domestic demand during the second Covid-19 wave. Moreover, Tauktae that hit parts of Gujarat in May also took a toll on demand.
"About 60 new plants with capex of Rs 5,000 crore are expected to be up and running by December this year," according to a report. "The demand for exports has risen to 35- 40% currently, up from 20-25% pre-Covid."
The report, by Edelweiss Research, says that exports are likely to touch more than 50% over the next two years for the ceramics industry. In FY21, exports for the industry stood at Rs 13,000-14,000 crore, whereas the domestic market was at Rs 43,000 crore.
The report titled 'Good times set to prevail for brands' dated June 14 states that about 300 factories had shut operations in Morbi around May 19. The reasons were weak domestic demand and the one-off scare caused by the cyclone. Of the 300 factories, 150 resumed production recently and in the next 10 days, 90% of production from Morbi is expected to resume.
The impact of the second Covid wave has been significant on domestic demand, which has declined more than 50%. Exports, meanwhile, have suffered the least (10-15%), the report said. High container freight rates have had some effect on exports.
"Over the last five-six days, the situation has been improving with opening up of markets across the country," the report said. "More than half the factories that had shut operations are now up and running while others are ramping up utilization."
The Edelweiss Research team had interacted with officials of Morbi Ceramic Association (Wall Tiles). More than 90% of India's ceramics production comes from Morbi and the world's leading brands are produced here through the outsourcing model. There are more than 950 factories in Morbi.
For the new factories, there has been a delay of 3-4 months as machinery supplies from China and Italy are running late. Higher freight rates are delaying deliveries and there have been installation delays at Morbi in the wake of the second wave. "While delays in large capacity additions is positive for branded players, the major advantage is these new plants are mainly targeted at exports (60-70% of supplies)," the report said. "Hence, they might have limited impact on domestic supplies, pricing and margins."
Given the large size of the cluster, Morbi is looking to reduce its dependence on only the Indian market and target the world's leading markets also.
Indonesia has put a safeguard duty against Indian tile exports. Despite this 12-13% duty, exports to Indonesia did not reduce, according to the report. Despite the anti-dumping duty (ADD) of the Gulf Cooperation Council countries (approximately 40% of total exports pre-ADD) for almost a year, Morbi was still able to supply 70% of its annual exports.
"Out of the six countries, only Bahrain and Saudi Arabia are imposing ADD," according to the sectoral report. "Also, these countries are likely to review imposition of duty." China and India are neck-and-neck on pricing as clay cost and power cost is almost similar in India and China. Labour cost for China is 10% higher than for India and some parts of China are still using coal, and pricing for gas is more competitive, the report said.
Morbi, which has emerged as the country's largest hub for natural gas consumption over the past two years, saw its consumption going down from 7.5-7.8 million cubic metres to 4 million cubic metres during the second wave. Over the past ten days, it has reached 5 million cubic metres and is expected to rise to 5.5-6 million cubic metres in the next 15 days with further opening of markets.
Source : The Times of India