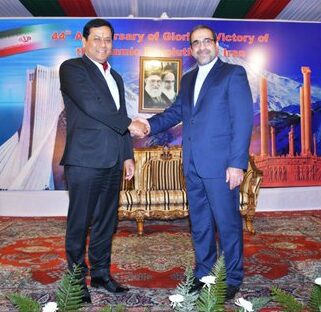 Sarbanda Sonowal attended the 44th National Day of Iran in New Delhi
NEW DELHI : Union Minister of Ports, Shipping and Waterways Shri Sarbananda Sonowal attended the 44th National Day of Iran in New Delhi, highlighting India's commitment to strengthen bilateral ties with Iran in Maritime sector & Iran Embassy in India celebrated the 44th anniversary of the victory of the Islamic Revolution of Iran here too,
Russian Ambassador Denis Alipov, Iran ambassador Dr Iraj Elahi, while speaking on the occasion, Iran ambassador Iraj Elahi praised the relationship between India and Iran. "One of the results of the Islamic Revolution has been the strengthening of relations with neighbouring countries. India is of special importance to Iran. The recent cordial meeting between president of Iran and PM Modi is proof of this," said Iraj Elahi.
He continued, "Due to good political relations, trade relations have tremendously increased. Energy has always been an important part of the trade relation between Iran and India. Although external pressure has caused problems in this field in recent years, but India's strategic autonomy is still the biggest support for the continuation of this cooperation." "Connectivity has been another field of cooperation between Iran and India. In this regard, Chabahar port is considered as the golden gateway connecting the countries along the Indian Ocean to Central Asia and the Caucasus," he added.