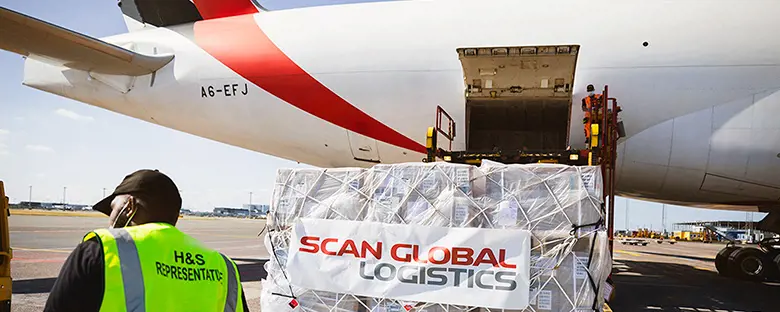 Scan Global Logistics launches pilot project with Majid Al Futtaim Lifestyle using SAF to reduce carbon emissions
DENMARK : Scan Global Logistics announces a new partnership with Majid Al Futtaim Lifestyle, aiming to reduce CO2 emissions by using SAF for airfreight shipments from Asia to the UAE. the global logistics and supply chain solutions provider, has partnered, the leading shopping mall, communities, retail, and leisure pioneer across the Middle East, Africa, and Asia to launch a pilot project using sustainable aviation fuel (SAF). The pilot project launched in May aims to reduce carbon emissions for airfreight shipments of Majid Al Futtaim Lifestyle fashion products from Asia to the UAE The first shipment was planned for 1 May 2023 and was delivered safely and successfully.
Commenting on the partnership, Fahed Ghanim, CEO Majid Al Futtaim Lifestyle, said: "Majid Al Futtaim Lifestyle is proud to partner with Scan Global Logistics to trial Sustainable Air Fuel for our air shipments. We believe in thinking holistically about the impact our business has on the environment and the communities in which we operate, and this latest partnership is a testament to Majid Al Futtaim's unwavering commitment to sustainability as the Group journeys closer to Net Positive by 2040.'
SAF is part of SGL's portfolio of sustainable logistics solutions available for customers, including biofuel for ocean freight, road freight and electric trucking.
A key reason to focus on airfreight when reducing emissions is that it is the most carbon-intensive mode of transport, with emissions per unit of goods transported significantly higher than ocean or road freight. As one of the main levers to achieve CO2 reductions within the aviation industry, investing in SAF creates real climate benefits and helps grow the demand for renewable fuels.
'We are proud to partner with Majid Al Futtaim Lifestyle on this pilot project and hope to demonstrate the viability of sustainable logistics and encourage other companies to adopt similar initiatives', says Scan Global Logistics' Global CEO Allan Melgaard.
The SAF that will be used is made from sustainably sourced renewable waste and residue material. Over its lifecycle, SAF can reduce carbon emissions by up to 80% compared to conventional jet fuel.
The pilot project started on 1 May 2023 and will continue for over 3 months.
About Majid Al Futtaim Lifestyle
Founded in 1992, Majid Al Futtaim is a diversified lifestyle conglomerate spanning 16 countries across the Middle East, Africa and Asia. The company employs 46,000 people representing 114 nationalities and welcomes 600 million customers to its shopping malls, communities, retail and entertainment destinations each year.
With owned assets valued at US$18 billion, Majid Al Futtaim has the highest credit rating (BBB) among privately-held corporates in the region. The company is committed to becoming Net Positive in water and carbon by 2040.
Majid Al Futtaim Lifestyle is home to world-class fashion and retail brands with over 65 stores across the MENA region. As the retail partner of choice for some of the most desirable brands, Majid Al Futtaim Lifestyle holds exclusive licensing rights across the region for names such as Lululemon, Lego, Abercrombie & Fitch, Hollister, AllSaints, CB2, Shiseido, Poltrona Frau, Crate & Barrel and THAT, a Majid Al Futtaim multi-brand concept store and app. The Company currently boasts 18 online platforms and continues to strengthen its position as a market leader through its exceptional omnichannel customer experience offering.
About Scan Global Logistics
Scan Global Logistics has a defined purpose to uncomplicate the world of logistics every day. As a full-service logistics provider offering a broad range of services and end-to-end logistics solutions across air, ocean, rail, road, warehousing or any combination thereof, the company has a global track record to prove it. Anchored in Science Based Targets to help limit global warming to 1.5°C, SGL also offers customers a complete Low Carbon Logistics Solution Catalogue to help them reduce CO2 emissions from transportation.
Deeply rooted in the company's DNA is a 'can-do-attitude' to see every challenge as an opportunity to do more, better, and learn. With a global network spanning six continents and over 3300 employees across +150 offices, the company works closely together to offer worldwide customised solutions. While doing so, SGL insists on creating a meaningful workplace rooted in the company's guiding virtues of Respect, Integrity, Entrepreneurship and Fun