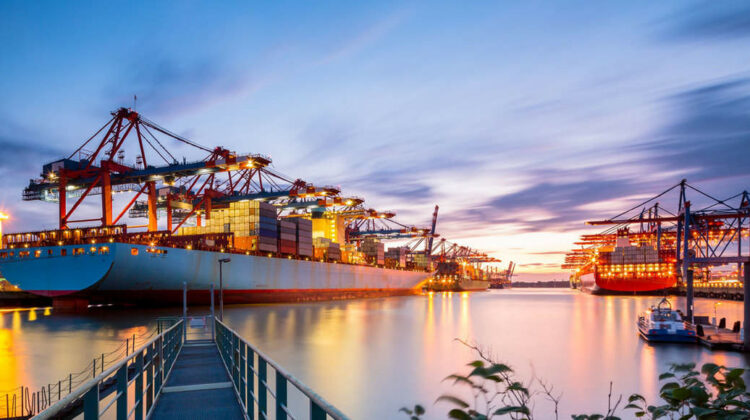 Shipping, allied industries battle choppy waters as margins sink
MUMBAI : Shipping and allied industries are bracing for a rough patch with depleting margins as freight rates are falling to pre-Covid levels or even lower in certain cases with containers accumulating at Indian ports.
As things stand, freight rates in key transit routes have declined over the past 3-4 months to as much as just a quarter of what they averaged a couple of years ago due to lower consumption in western markets amid global economic headwinds.
With that, containers have piled up at Indian ports, resulting in a reversal of the situation from just a year ago when shippers were running from pillar to post to get their hands on empty containers.
"During the pandemic, there was unprecedented demand and, with that, the freight rates shot up. In the last 3-4 months, demand has softened, mainly in North America and Europe," said Bhavik Mota, Director for Ocean Shipping in the IMEA region, Maersk.
The decline in freight rates is starker when compared to the exorbitant peak prices reached during the peak of the pandemic when there was a global logistic logjam.
For instance, rates for shipping a standard 20-foot container from the Mundra port to the UK went as high as $6,500. These have corrected to around $750 now. For the Port of Jebel Ali in Dubai, rates have declined to as low as $100 from the highs of $1,400.
Meanwhile, the accumulation of containers has also led to a few instances of shipping lines charging extremely low prices to incentivise desired movement of cargo. For instance, one global shipping line reportedly charged just $1 for a 20-foot container shipment to the Port of Durban, while another charged as low as $25 for moving cargo to the Port of Jebel Ali, said a person in the know.
"This is, in many ways, a perfect storm. This is almost like the 2008 crisis. While that was a financial crisis, this is a masala of many crises," said Shashi Kiran Shetty, founder of AllCargo Group, whose overseas subsidiary ECU Worldwide, a non-vessel operating common carrier, has been directly impacted by the softening of rates.
The factors affecting freight rates include the war in Ukraine, high inflation, rising interest rates, and expensive commodity prices – which are putting pressure on consumption, inventory build-up and geopolitical issues, Shetty said.
The decline in outbound trade is apparent from the level of activity at ports, say industry sources.
"Take the Kandla port, for instance. Aroun 4-5 months ago, there would be, on average, 30-35 vessels waiting to get berths. Currently, the ships get the berth on arrival," said Raajesh Bhojwani, Managing Director at RBB Ship Chartering Pte Ltd Singapore. The lower outward movement of cargo from India has resulted in an accumulation of empty containers at domestic ports. Industry insiders remarked at the stark reversal of the situation, compared to the last two years when there was a container shortage in India while metal boxes piled up at Western ports.
"The pandemic significantly disrupted global container networks and capacities as a result of extreme, uncoordinated lockdowns and resulting labour shortages," explains Prahlad Tanwar, Global Head of logistics at KPMG. China's persistent zero-Covid policy and the growing pile-up of laden containers across ports in Europe and the United States dragged the disruption well into 2022, with shipping lines registering dismal 30% schedule reliability levels, he said.
However, the spike ensured that despite recording the lowest operating performance levels in history, shipping companies abruptly posted record profits emerging from a 12-year downturn, Tanwar said.
With rates down as much as 70% compared to prevailing tariff levels during the pandemic, the industry could likely be entering another down cycle that will persist over 2-3 quarters, he said.However, some experts believe the rates have hit a bottom and should improve with early signs of demand recovery.