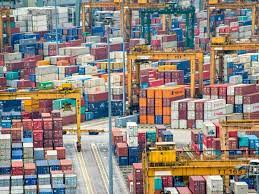 Shipping Giants suspend bookings due to China's strict port quarantine

---
Global shipping giants have told customers they are temporarily halting some bookings due to a suspension of service by feeder operators in southern China
Analysts say weeks-long suspension of services is likely to have 'ripple effects' on road congestion and flow of goods during the Lunar New Year period
Feeder operators at ports in southern China are extending service suspensions by at least six weeks over the Lunar New Year holiday due to strict quarantine measures for shipping crew, in a move that may further disrupt snarled supply chains, industry insiders say.
Feeder operators own medium-sized ships that transport containers between small ports and major container terminals where they are loaded onto larger vessels.
Global shipping giants such as Ocean Network Express, Hapag-Lloyd and Evergreen have told customers they are temporarily stopping bookings for cargo going to small ports in the Pearl River Delta and Fujian province because of the situation.
"This suspension is caused by the Covid-19 quarantine requirement for ship crew plying between South China and Hong Kong upon their return from the Chinese New Year 2022 holidays," said Hapag-Lloyd in an advisory
I would assume this could have further ripple effects on land-side congestion and flow of goods during the [Lunar New Year] period :
Akhil Nair
Before the pandemic, feeder operators suspended operations around the seven-day holiday – which starts on January 31 next year – but only for two to three weeks.
"Clearly the crew want to be able to go home for Chinese New Year," said Lars Jensen, CEO of container shipping consultancy Vespucci Maritime.
"This will not directly impact cargo moving directly to or from the major deep-sea ports, but can give rise to a number of ripple effects. Cargo to or from the smaller ports might see an earlier surge than usual.
The decision by shipping companies to halt bookings seems to be about avoiding a pile up of imports at bigger Chinese ports, said Akhil Nair, Vice-President of Global Carrier Management and Ocean Strategy at Seko Logistics.