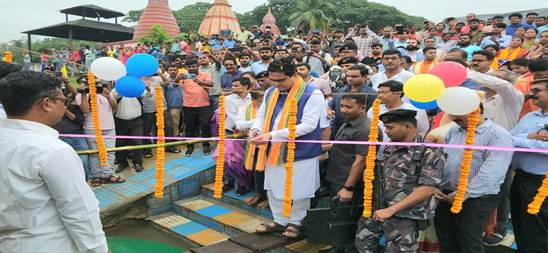 Shri Shantanu Thakur inaugurates dredging work at National Waterways-44, Ichamati River in West Bengal
KOLKATA : The Ministry of Ports, Shipping and Waterways with its continuous efforts is developing and modernizing National Waterways to promote inland water transport as a more cost-effective and environmentally friendly mode of transportation. The Minister of State for Ports, Shipping and Waterways, Shri Shantanu Thakur inaugurated the dredging work at National Waterways 44 (Ichamati River) in West Bengal.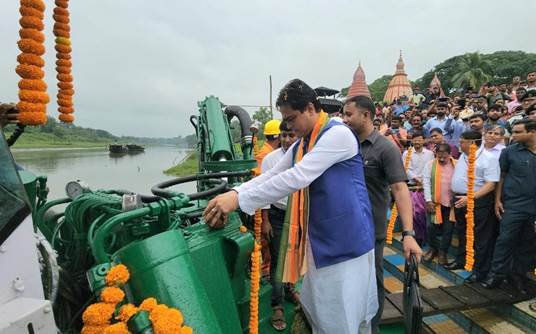 On the occasion, Shri Shantanu Thakur said, 'The Prime Minister Shri Narendra Modi once said 'Inland Waterways are powering the growth of India's economy'. Now, under his leadership The Ministry of Ports, Shipping and Waterways is working towards development of National Waterways like never before. The work for dredging from Tentulia to Kalanchi for 23.38 km is being commenced for achieving navigational depth of 1.5 m ( 1.2 m +0.3 m tolerance) as per mandate and increasing tidal influence in the river. The budget of ₹ 3.77 crores is sanctioned for meeting dredging and other allied expenses upto March'23 and new scheme shall be sanctioned for 2023-24 as per further requirement and higher capacity dredger shall be deployed after outcome of this initial dredging'.
To bring improvement of navigability water hyacinth, weeds, wastes including plastic and non-plastic materials, natural and artificial (dumped materials) were cleared from Tentulia (Ch 40km) to Kalanchi (Ch 63.38 km) and dredging quantity was assessed. In 1st phase Taranipur (Ch 61.9km) bridge is under active consideration for construction on deposit work basis through Government of West Bengal and funding of ₹ 136 .20 crores under Sagarmala project of Ministry of Ports Shipping and Waterways. IWAI has also taken step to replace existing temporary bamboo bridge for which Jadavpur University, Kolkata has been assigned the work for study/design, drawing & cost estimate for replacing temporary bamboo bridge at Swarupnagar.
INTERNATIONAL CONNECTIVITY (WITH BANGLADESH)
For decongestion of traffic from Ghojadanga –Bhomra and Petrapole –Benapole Integrated Check Post (ICP), Joint Technical Committee comprising of members from India and Bangladesh has been formed to assess the feasibility study of Ichamati river for its navigability and inclusion in Protocol on Inland Water Transit & Trade (PIWT&T) as new Indo Bangladesh Protocol route from Hemnagar – Kalanchi – Khedapara ( 170.38 km) .
i. Hemnagar to Bansjhari,Mallikpur : 82 km – proposed IBP route
ii. Bansjhari,Mallikpur to Kalanchi : 63.38 km – NW-44
iii. Kalanchi to Khedapara : 25 km – proposed IBP route
Total : 170.38 km
The development of waterways in India is a continuous process involving both short-term and long-term planning and implementation. It plays a crucial role in reducing transportation costs, promoting trade, and easing congestion on roads and railways.