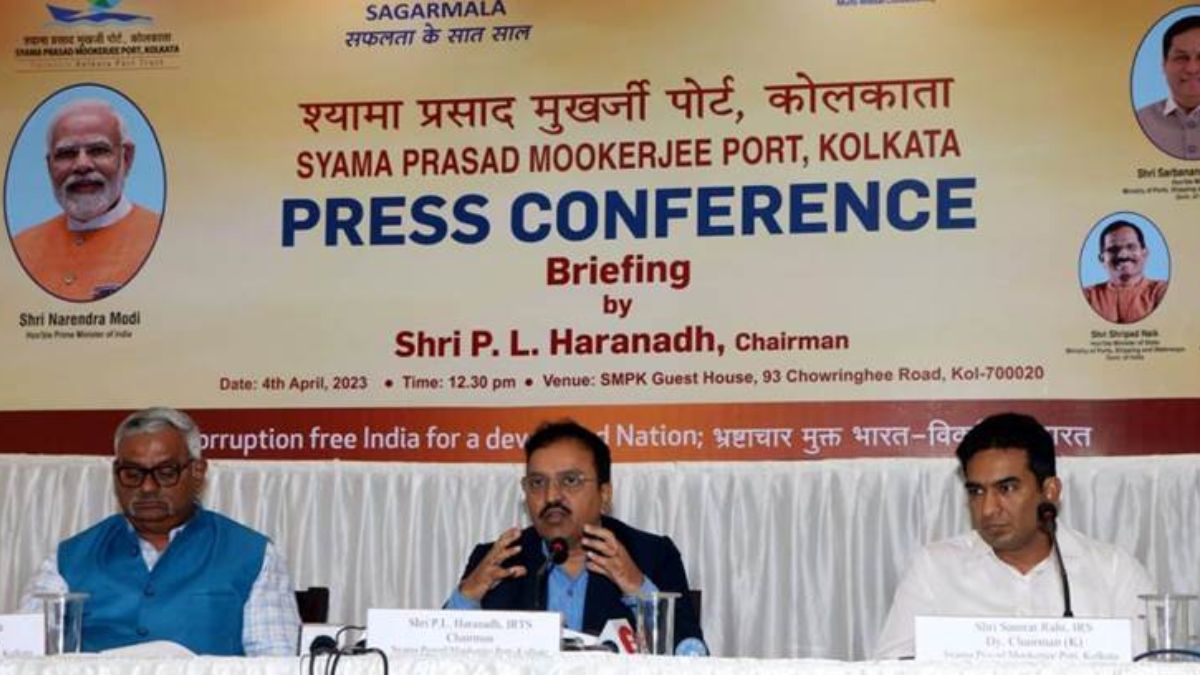 SMP Kolkata creates an all time record in the Port's history after 1870
KOLKATA : In its 153 years history, Syama Prasad Mookerjee Port, Kolkata (SMP Kolkata) including Kolkata Dock System and Haldia Dock Complex, for the first time, handled 65.66 (MMT) million tones of Cargo in 2022-23, recording an all time high throughput which is a 12.87% increase from the previous record of 58.175 million tones moved in 2021-22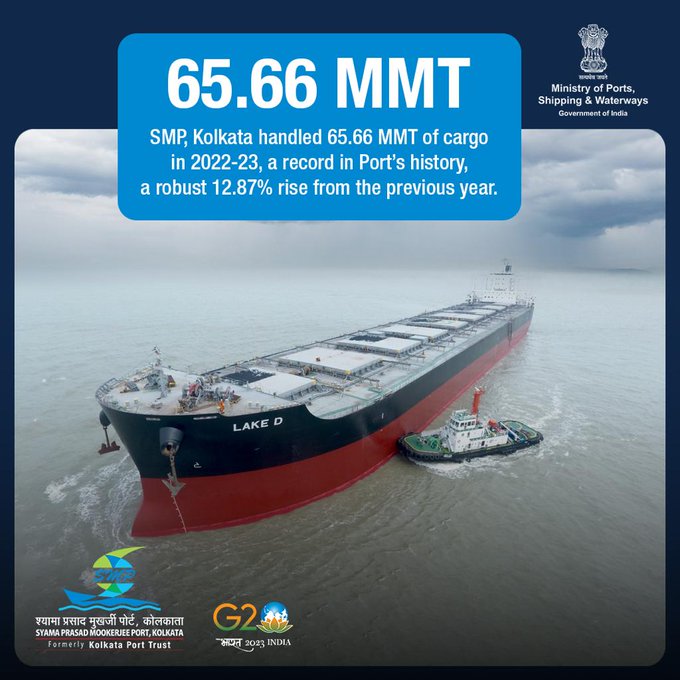 Syama Prasad Mookerjee Port (SMP), Kolkata, is looking to completely privatise cargo handling operations by 2030. Nearly 10 per cent of the cargo handled by the port is currently through a public-private partnership (PPP) model. The aim is to scale it beyond 80 per cent by 2030.
In 2022-23, SMP, Kolkata recorded highest ever growth of Traffic of 7.5 million tones done, in comparison to previous years, which is the highest quantum growth achieved in its history.
SMP, Kolkata had earlier surpassed the Ministry's target of 61 MMT collectively and individually both at its twin dock systems, viz. HDC (44.50 MMT on 3.3.2023) and KDS (16.50 MMT on 22.03.2023).
Shri P.L.Haranadh, Chairman, SMPK said that increasing cargo troughput was driven by various measures undertaken by the port to improve productivity, safety, business development capacity utilization, etc.
It is worth mentioning that SMP, Kolkata got elevated from 6th position to 5th position in cargo handling among all the major ports of India for the year 2022-23. Cargo handled at HDC is 48.6 MMT and KDS is 17.05 MMT, thus surpassing the previous year's throughput with growth rate of 13.37% and 11.47%, respectively.
SMP, Kolkata handled highest ever rail-borne cargo (34.6 MMT) for the financial year 2022-23.
Shri P.L.Haranadh, further stated that the port registered strong financial performance in 2022-23 by posting net surplus of Rs. 304 crores i.e. net surplus improved by 150% compared to the previous years.
To augment capacity of the port, SMPK is stressing on the PPP Projects in a big way. During the financial year 2022-23, the port has awarded 3 major projects with investment of Rs.730 crores through PPP Mode. These three projects are expected to increase capacity by 6.7 MMT.
The port has to reduce the congestion of port and increase of the capacity. Accordingly, the SMPK is planning to develop extended port gate system at Balagarh with an investment at about Rs.445 crores, out of which around Rs. 343 crores will be invested through PPP.
SMPK plans to develop the land parcels owned by it in a systematic way. The detailed master plan is being prepared by SMPK which will be completed by June, 2023. SMPK has already floated EoI for developing a multi-modal logistic terminal near port on about 60 acres of land which is only 2 km from Kolkata Dock. These projects would facilitate warehousing, cold storage, Truck Terminal, Rail and Road connectivity, etc.
SMPK is targeting to start Night Navigation of the vessels destined to/originated from Kolkata Dock System, in association with Antwerp Port, Belgium and IIT Chennai. It plans to bring small vessels upto 100 m by August, 2023 and all vessels by March, 2024 which will reduce turn around time of the vessels substantially increasing the capacity of the port.
Shri P.L.Haranadh, Chairman, SMPK has expressed his gratitude to Shri Sarbananda Sonowal, Hon'ble Union Minister of Ports, Shipping and Waterways, Shri Santanu Thakur, Hon'ble State Minister and Shri Shripad Naik, Hon'ble State Minister and Sri Sudhansh Pant, Secretary, PSW for their continued guidance and support which helped SMPK achieve highest ever cargo growth.
He congratulated all the officers, staff and unions, PPP Operators, Stevedores, Stakeholders, etc. for working like a team to produce the spectacular performance.
Shri P.L.Haranadh, Chairman, SMPK also thanked Indian Railways, Department of Customs, Government of West Bengal, NHAI and other organizations for their continued support.