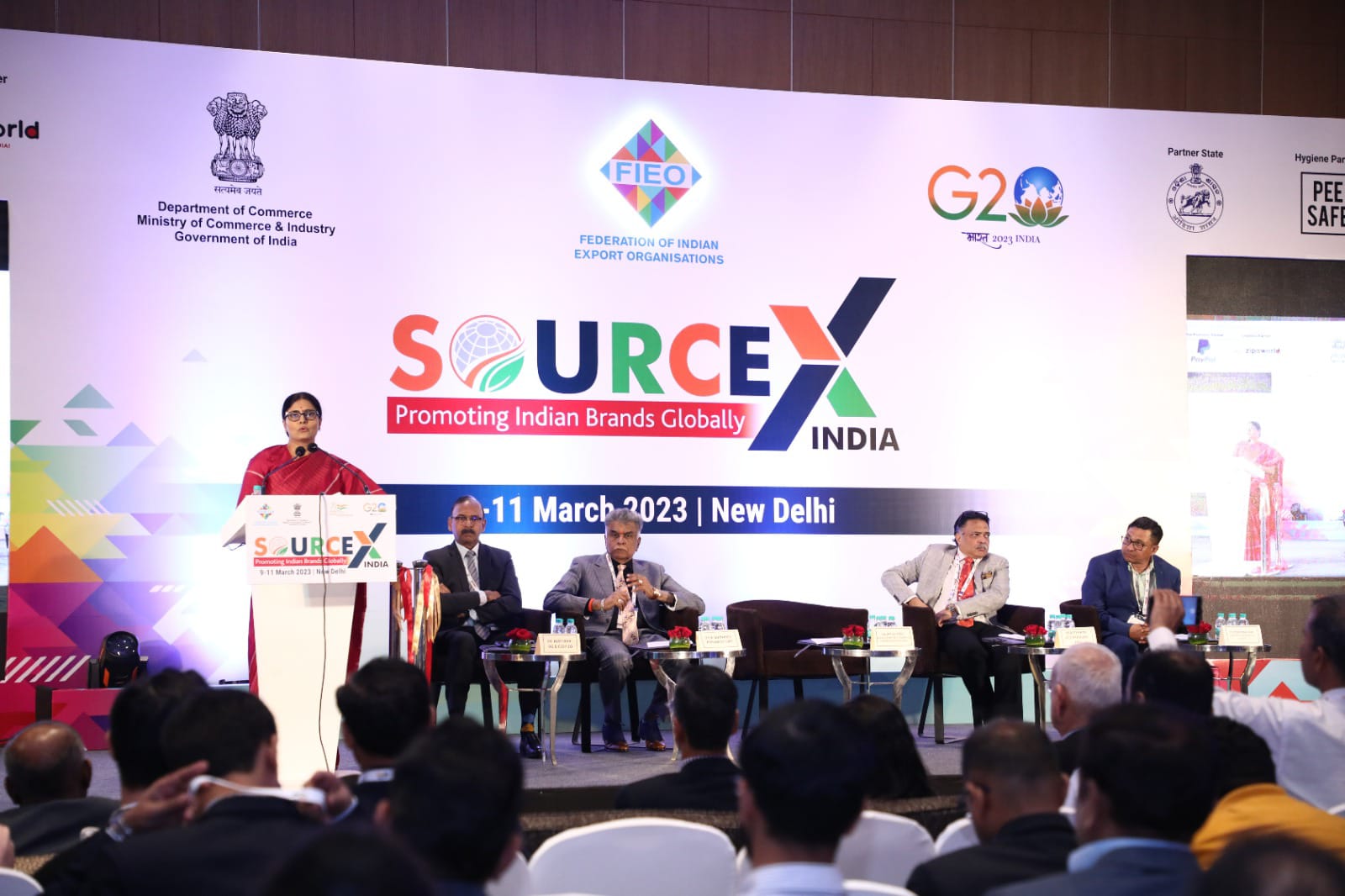 Sourcex India 2023 marks a significant milestone in Government of India's efforts to promote and support the Indian business community on a global stage
NEW DELHI : SOURCEX INDIA 2023 organised by FIEO from March 9-11, 2023 was inaugurated at New Delhi. Dr A Sakhtivel, President, FIEO addressing the gathering at the inaugural of the mega event said that the event is aimed at promoting Indian brands in the international market, which is a significant step towards realizing the vision of our Hon'ble Prime Minister, Shri Narendra Modi, of making India a global manufacturing hub. He added that with India's rising prominence in the global export markets coupled with growing international opportunities, offers immense scope for Indian brands to expand internationally in multiple verticals. He said that despite global headwinds Indian exports will give an additional USD 100 billion over an above what was achieved in 2021-22.
Smt Anupriya Patel, Hon'ble Minister of State for Commerce & Industry in her key note address complimented FIEO for organising Sourcex India 2023 to promote Indian brands Globally. She said that the event marks a significant milestone in Government of India's efforts to promote and support the Indian business community on a global stage.
The Hon'ble Minister mentioned that the Indian economy is one of the fastest-growing economies in the world, and with the increasing globalisation of trade, there is immense potential for Indian businesses particularly brands to expand their footprint in the international market. The Government of India has been taking several measures to promote exports and ensure that Indian products are of global standards. Initiatives like Make in India, Digital India, Skill India and Start-up India, have created a favourable environment for entrepreneurs to thrive and grow.
She added that Sourcex India 2023, is focused on taking this agenda forward. The event is providing a unique platform for Indian businesses to showcase their brands & products, and interact with buyers from all over the world. This event is a testimony to the Government of India's commitment to support Indian businesses, and promote the Make in India initiative.
Earlier during his welcome address, FIEO DG & CEO, Dr Ajay Sahai said that Branding is key to promoting exports in niche segment and insulating against price sensitivity. He suggested that a 3-tier strategy should be adopted to promote brands. The government should promote India as a brand with a laid down strategy. Product specific councils/associations should promote product as a brand as is being done by Californian Almonds Association for Calfornian Almonds. Companies should develop their own brands, which may require substantial investment for liberal financing may be extended.
Shri Khalid Khan, Vice President, FIEO while proposing Vote of thanks mentioned that the importance of brands in the export business is irrefutable and is one of the most important aspects of the success of any international business. During recent times, marketing innovation has become essential for businessmen to remain competitive, build brand loyalty and drive revenue growth. He expressed his gratitude to the support extended by the Ministry of Commerce and Industry in organising Sourcex India 2023 to focus on the relevance and importance of brands, and is hopeful that this event will result in promoting Indian brands overseas and will bring a new paradigm shift in India's exports.
Sourcex India 2023 is not just an exhibition or a trade fair, but a platform that aims to facilitate the successful launch of Indian brands in the international market. The three-day reverse buyer seller meet scheduled from March 9-11, 2023 at New Delhi focuses on B2B meetings, knowledge-sharing sessions and interactive workshops that will provide insights into global market trends and help Indian companies to develop a better understanding of the needs and preferences of international buyers.
More than 100 foreign buyers from 30 plus countries are attending the event and meeting over 125 plus Indian companies exhibiting top Indian brands.