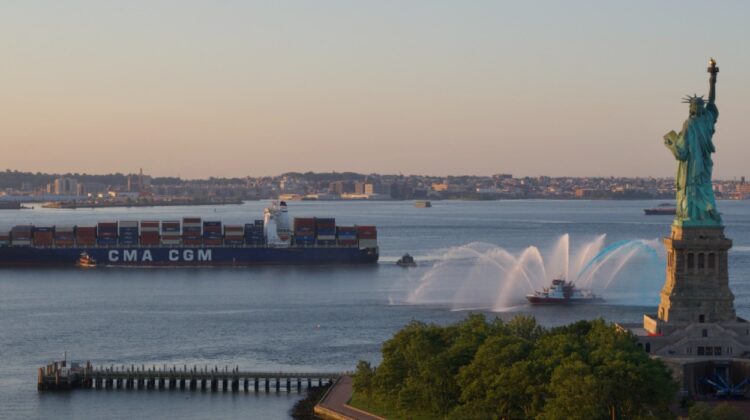 Statue of Liberty replica has arrived in New York on board the CMA CGM NERVAL
Lady Liberty's Little Sister arrived in New York after crossing the Atlantic Ocean.
Customized solutions used to transport this exceptional cargo.
Statue will travel to Ellis Island to be displayed to visitors on Independence Day.
NEW YORK : The CMA CGM Group, a world leader in shipping and logistics, celebrated the New York arrival of the Statue of Liberty replica from Le Havre, France. A welcome ceremony was held upon her arrival at the Port of New York & New Jersey in the presence of Ed Aldridge, President of CMA CGM and APL North America, Philippe Etienne, French Ambassador to the United States, New Jersey Governor Phil Murphy, as well as Kevin O'Toole, Chairman of the Port Authority of New York & New Jersey, and U.S. Customs & Border Protection Acting Port Director, Ed Fox.
For this exceptional transport, the Group has been working in partnership with the Conservatoire national des arts et métiers (Cnam) and the Embassy of France in the United States. In Le Havre, the statue produced from the 1878 plaster original of Auguste Bartholdi was taken on June 23 on board the CMA CGM NERVAL, a ship 985 feet long and capable of carrying 6,500 TEUs.
Tailor-made solutions for the transport of a precious symbol
Prior to ocean transport, the 9-foot-tall bronze statue was unbolted, hoisted from her base in Paris and carefully packed in a specially designed case with transparent plexiglass walls for transporting sculptures. The encased statue was then placed in a dedicated 20-foot shipping container for transport. The container showcases a special design to commemorate this unique project.
The customized services and expertise needed to move the statue clearly demonstrate the CMA CGM Group's extensive capabilities in designing and delivering seamless end-to-end solutions for customers around the globe.
An Independence Day to remember on Ellis Island
From the Port of New York & New Jersey, CMA CGM Group's logistics subsidiary, CEVA Logistics, will transport and install the iconic statue for viewing on Ellis Island. This Statue of Liberty replica will be on display from July 1–6, joining its full-scale sibling to celebrate Independence Day thanks to a cooperation agreement with the Statue of Liberty-Ellis Island Foundation and the National Park Service.
She will then be transported to her final destination at the French Ambassador's Residence in Washington, D.C. where she will be unveiled on Bastille Day (July 14) as a symbol of the strong, enduring French-American friendship.
Ed Aldridge, President of CMA CGM and APL North America, said, "On behalf of the CMA CGM Group, I am pleased to commemorate this historic day and welcome Lady Liberty's Little Sister to the United States. This project truly demonstrates the CMA CGM Group's capabilities both in ocean transportation and logistics as well as our expertise in executing tailor-made, end-to-end solutions around the world. With this symbolic journey, our company is honored to play a role in representing the important friendship between the U.S. and France."
Philippe Etienne, French Ambassador to the U.S., said, "When we began discussions on this project in 2019, we had no idea what a shining light this statue would be after a year of pandemic and uncertainty. The first Lady Liberty was not given by the French government to the American government, but by the French people to the American people. Her little sister will arrive in the U.S. as the result of a joint effort led by historians, artists, and engineers; civil society, cultural institutions and companies from both countries. I am truly honored to greet this symbol of friendship between the French and American people, this Liberty that enlightens the world – a core value for our nations that it is more important than ever to defend. This Lady Liberty reminds us of our joint commitment to democracy, which is one of the most important foundations of our international engagements, goals and successes."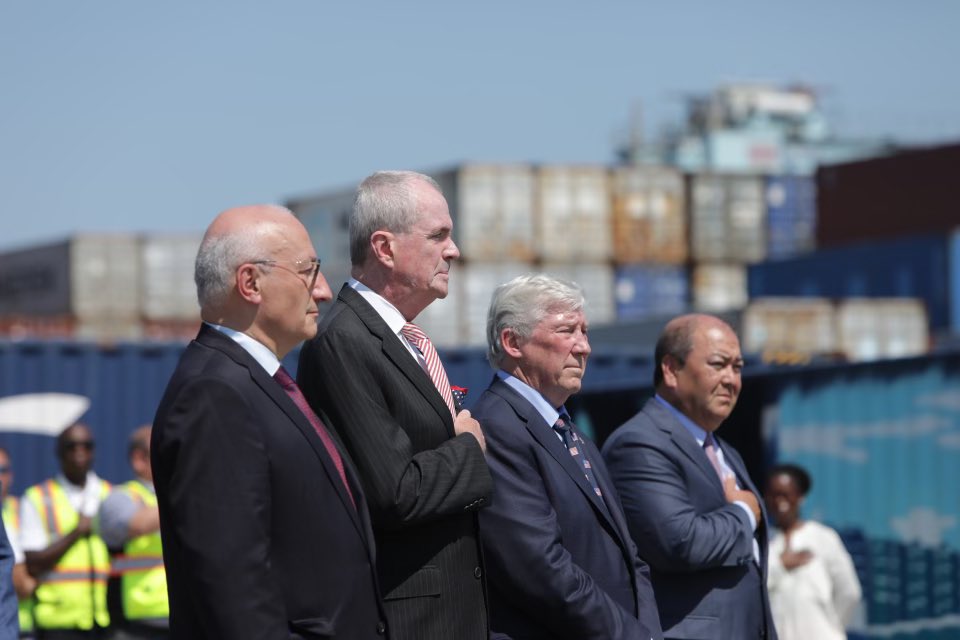 Phil Murphy, New Jersey Governor, said, "I take great pride that Lady Liberty's little sister has disembarked in America in the Port of Elizabeth, New Jersey. As New Jerseyans, we welcome this statue, cast from Frederic-August Bartholdi's original molds, not just because of what it is as a matter of art and history, but what it represents. I hope, and trust, her presence will enlighten all who see her to live up to her values in their own lives and actions – and to the highest shared values of our nations."
Kevin O'Toole, Port Authority Chairman, said, "The Port Authority of New York and New Jersey is honored to be part of this historic moment during a historic year for the agency, which is commemorating its centennial this year. The Port Authority was created in 1921 to keep the bistate region moving, whether that's people via our airports or vehicular crossings, or the global commerce that uses our seaport as the primary gateway to the U.S. East Coast. The arrival of this Statue of Liberty, smaller but no less significant, at our seaport after a challenging year for the entire world shows that there is light at the end of the tunnel and that our international relationships truly matter, now more than ever before."
Source : CMA CGM