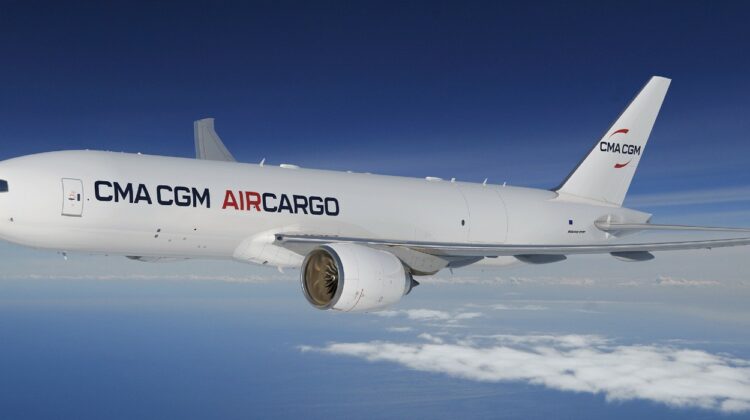 The CMA CGM Group orders two Boeing 777 freighter

---
• The first direct order for the air freight division of the CMA CGM Group
• The 777 cargo ships will strengthen the Group's growth in the air freight market
• A fuel-efficient twin-jet cargo aircraft with a maximum payload of 102 tonnes

MARSEILLE : Boeing [NYSE: BA] and the CMA CGM Group, a world leader in maritime transport and logistics, today announced the order for two new Boeing 777 freighter which will increase the capacities of the Group air freight.
The CMA CGM Group launched its dedicated air freight division, CMA CGM AIR CARGO, in February 2021. Commercial operations began in March with a first flight between Liège (Belgium) and Chicago, followed by other flights to New York , Atlanta and Dubai. CMA CGM AIR CARGO represents a new major component of the CMA CGM Group, both operationally and commercially. This new activity is also a key step in the Group's strategic development in the logistics sector.
The Boeing 777 will give CMA CGM AIR CARGO the flexibility to operate the aircraft across its expanding air network, while contributing to the achievement of its sustainable development goals. The CMA CGM Group is thus continuing its commitment to offer its customers a full range of transport and logistics solutions.
The 777 freighter is the world's largest capacity and longest range twin-jet widebody cargo carrier. With a range of 9,200 kilometers, the 777 freighter can carry a maximum payload of 102 tonnes, allowing CMA CGM AIR CARGO to make fewer stopovers on long-haul flights, reducing charges for landing.
The 777 freighter is the Boeing aircraft with the greatest commercial success in the cargo aircraft segment. Since the program began in 2005, customers around the world have ordered 272 units of the 777 freighter. A leader in the cargo aircraft market, Boeing supplies more than 90% of all-cargo air capacity worldwide, whether it is new or converted aircraft.
A leading global aerospace group, Boeing develops, manufactures and services its line of commercial aircraft, defense products and space systems to customers in more than 150 countries. The Group is one of the very first American exporters and relies on the skills of an international network of suppliers to seize new economic opportunities, accelerate sustainable development and optimize its presence in communities. Drawing on its diversity, the Boeing team is committed to innovating for the future and to embodying the Group's fundamental values ​​in terms of safety, quality and integrity. For more information, visit the Boeing website: www.boeing.com.
The 542 container ships of the CMA CGM Group serve more than 420 ports around the world and transported nearly 21 million TEU (twenty foot equivalent) containers in 2020. CEVA Logistics, a world leader in logistics services and a subsidiary of the CMA Group CGM manages 400,000 tonnes of air freight and 2.8 million tonnes of land freight each year. CMA CGM is constantly innovating to offer its customers new maritime, air, land and logistics solutions. Present on all continents and in 160 countries through its network of more than 400 offices and 750 warehouses, the Group led by Rodolphe Saadé employs more than 110,000 people worldwide, including 2,400 in Marseille, where its global headquarters are located. . In the United States, the CMA CGM Group, headquartered in Norfolk, Virginia, employs over 12,000 people. Its subsidiary, American President Lines (APL), operates a fleet of US flag vessels and provides services to US territories and US armed forces stationed around the world.
---