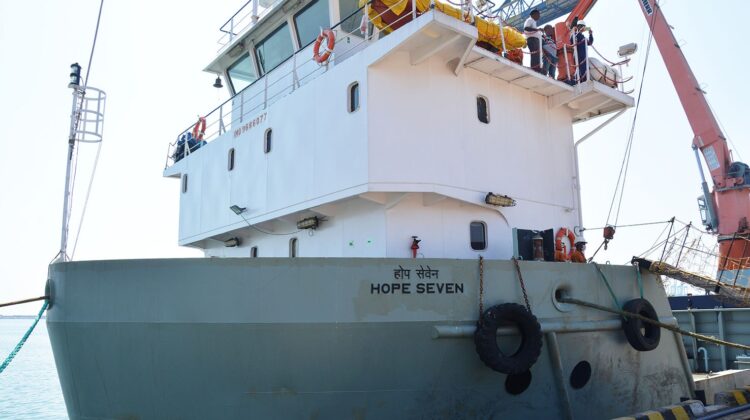 The Commercial operations of Chennai-Puducherry Coastal container feeder service set to commence
CHENNAI : Commercial operations of the short-haul coastal container feeder service between Chennai and Puducherry ports will begin from the first week of April, according to Mr. Jude Vallabadas, CEO, Projects, Global Logistics Solution India Pvt. The Chennai-based company formally launched the service in Chennai on February 27.
The container ship Hope Seven left Chennai Port on March 1 at 9 am with a few empty sea containers, and reached Puducherry in 12 hours, covering 78 nautical miles. It has been docked at Puducherry Port since then.
Mr. Vallabadas said. "We are at the end of the fiscal year and Letters of Credits will be put in place in April of every financial year," he said. The flow of exports and imports in March is low, and both exports and imports will start increasing from April, he added.
"We have firm contracts of affreightment with multinationals, and leading exporters and importers. Companies such as Whirlpool, Hindustan Unilever, Salora Pharma, Golden Cashew, Pratiba Cashew and TANFAC will use the coastal service," he added.
Export containers from Puducherry will be shipped to the US, Europe, Sri Lanka, the UAE, Vietnam, Singapore, Malaysia and Indonesia. In the return direction, cargo is expected from the US, China, Europe, Malaysia, Indonesia and Korea, he said.
An MoU for the feeder service between Chennai and Puducherry ports was signed on March 15, 2017. However, this could not commence due to frequent siltation at the mouth of Puducherry port and presence of many fishing boats. Puducherry port sought the help of Chennai Port Authority to sort out various issues, including siltation. Nearly ₹40 crore was spent on infrastructure and siltation issues at the port.
The Centre's Sagarmala programme envisages development of Puducherry port as a satellite port to Chennai port, for container cargo from and to the the Union Territory and its hinterland, extending to Cuddalore and Nagapattinam in the South-East; Tiruchi and Villupuram in the South; and Salem and Namakkal in the West. This could be a trial for a passenger ferry service between the two destinations, and even further down south.
Mr. Vallabadas said the feeder service will be twice-a-week. Every month nearly 5,000 twenty foot equivalent units (TEUs) – both import and export – are handled at Chennai port for companies in the industrial clusters located in and around Puducherry. All these containers are moved by road. The company plans to handle around 1,200 TEUs a month (both ways) through the coastal route.
The self-geared feeder ship can carry 106 TEUs, including 20 reefer socket slots and will cover the distance between the two destinations in 12 hours, he said.
Puducherry port is Customs ICEGATE enabled, with quick import and export clearance facility. The port warehouse has provision for container stuffing and de-stuffing. A company can complete all Customs-related formalities at Puducherry port and load the box on to the ship to Chennai, where a bigger feeder vessel will carry it to the trans-shipment port of Colombo or Singapore, to connect with the Mothership for its onward journey to the US or Europe.
Mr. Vallabadas urged mainline vessel operators to nominate Puducherry Port as a container yard to enable availability of empty containers for the trade. The port has a capacity to store around 2,000 TEUs, he recently told newspersons at the launch of the service in Chennai.