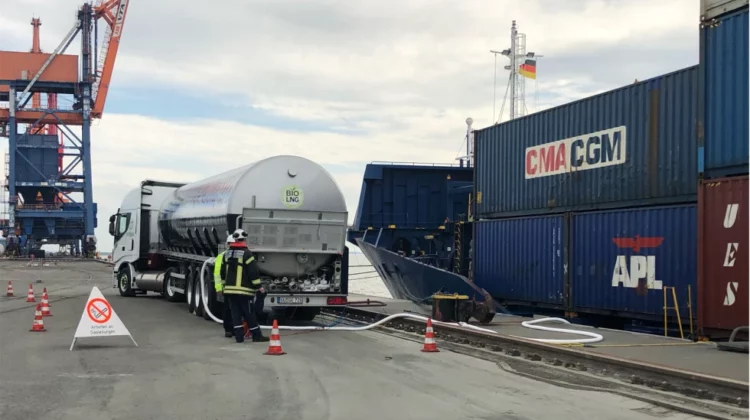 The container ship "Elbblue" is the first ship in the world to receive renewable synthetic natural gas

---
LIQUIND Marine organizes logistics and bunkering for the world's first ship bunkering with synthetic natural gas
Brunsbüttel : The "ElbBLUE" in the Elbe port of Brunsbüttel was the first ship in the world to receive around 20 tons of synthetic natural gas (SNG). The bunkering is a joint project of MAN Energy Solutions, the Elbdeich shipping company and the charterer Unifeeder and aims to demonstrate the potential for the use of climate-neutral fuels in shipping. LIQUIND Marine organized the logistics for the project from the liquefaction plant to the port and reloaded the SNG from the truck to the ship's tank.
Christian Schneider, Managing Director of LIQUIND Marine, is convinced of the long-term potential of natural gas in shipping: "With the successful implementation of the first ship bunkering with synthetic natural gas, the project partners have shown that the LNG infrastructure, through the gradual conversion to renewable products, has a long-term future. We are pleased to be able to make a substantial contribution not only to this project, but also to the development of the market, and we will build up the supply of LNG, but also bio-LNG and SNG in other regions and ports. "
The liquefied SNG was produced in a power-to-gas plant in Werlte, Lower Saxony, and obtained 100% from renewable energies. The first use in commercial shipping shows not only the potential for the production of environmentally friendly fuels in the region, but also reduces the direct CO2 emissions of the ship on its journey by around 56 tonnes.
The LIQUIND Marine GmbH is a subsidiary of the Berlin gas station operator LIQUIND 7.24, operating with a total of 15 and is more than twenty in the planning LNG filling stations leader in the supply of trucks with LNG in Germany. Building on the experience gained over the past few years in the development of infrastructure for alternative fuels, the Berlin company is gradually expanding its market position and has also established itself in the supply of seagoing and inland waterway vessels.
---