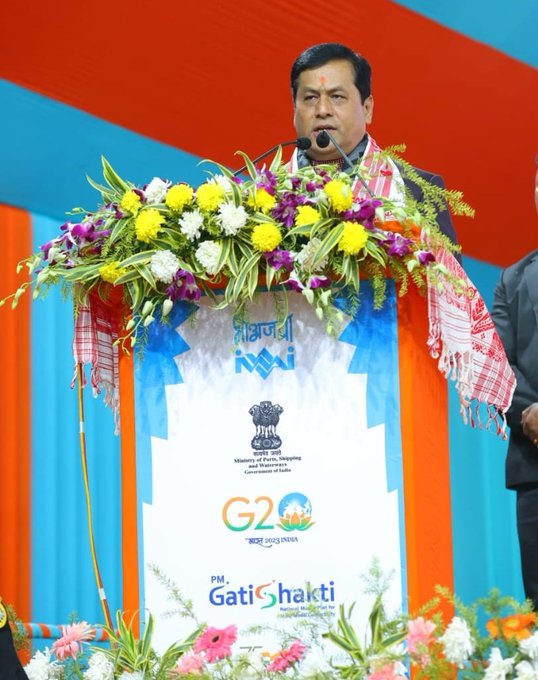 The river channels of Ganga and Brahmaputra are ready for scaling up goods and services : Sarbananda Sonowal
DIBRUGARH : Ganga and Brahmaputra river channels are ready for large scale movement of goods and services according to Minister for Ports, Shipping and Waterways, Shri Sarbananda Sonowal.
Speaking at the sidelines of a ceremony to mark the arrival of the MV Ganga Vilas, tourist vessel, Sonowal said that the focus is on developing the economic potential of the Brahmaputra river.
The vessel completed the world's longest river cruise in Dibrugarh (Assam) on Tuesday. He said that the successful completion of the river cruise from Varanasi (Uttar Pradesh) to Dibrugarh is a reflection that the waterway is primed for goods and passenger movement.
Sonowal said that the Brahmaputra river will unlock the economic potential of the North Eastern region of the country by providing easy and speedy access to goods and services in the region.
Responding to a query on the need to have access to port connectivity for export oriented businesses, he said, "Such routes are already available at Pandu (Guwahati, Assam). We have successfully executed two voyages from Patna to Pandu (2350 kilometre). One was for 200 metric tonnes (mt) of food grains," adding that 1800 mt steel (for Tata Steel) was also moved on the same principal, from Haldia Port. "It crossed 1600 kilometres (kms) to reach Pandu," he said.
According to Sonowal, it has been established that the Brahmaputra is feasible as a navigational channel with no dearth of depth across the river. This is what allowed the large cruise vessel to move comfortably. "There were many naysayers who said that it would be able to complete the route. They have been proven wrong and now it is established that there is enough water in the Ganga and Brahmaputra river systems," he said.
The MV Ganga Vilas undertook a 50 day journey crossing 27 rivers, 5 states and 2 countries to culminate in Dibrugarh, Assam. In addition to being the longest river cruise, this was also the longest distance covered by a a single vessel in river systems.