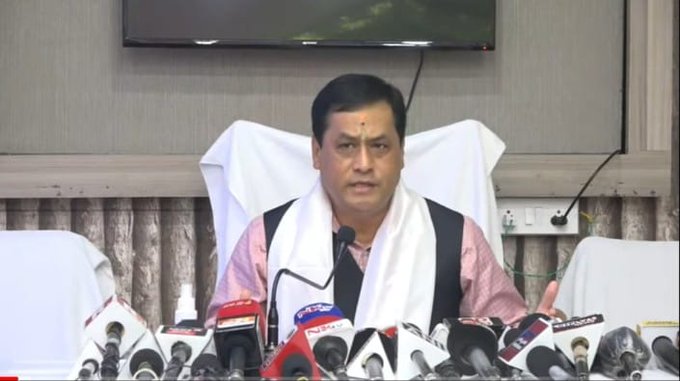 The Speed of Nation's Progress got new 'Shakti' through launching of PM GatiShakti : Shri Sarbananda Sonowal

---
GUWAHATI : The speed of nation's progress got new 'Shakti' through launching of an ambitious initiative PM Gati Shakti on October 13, said Union Minister of Ports, Shipping & Waterways and AYUSH Shri Sarbananda Sonowal in a Press Conference in Dibrugarh last Saturday. Shri Sonowal said that PM GatiShakti is a national master plan for multi-model connectivity and extension of holistic governance which will give impetus to 21st century India.
Talking about Gas pipeline in India, Shri Sonowal said that in last 7 years, work is going on for more than 16 thousand kilometre long gas pipeline across the country. Also talking about railway connectivity the minister said that in last 7 years more than 9 thousand kilometre of railway line have been doubled and more than 24 thousand kilometre of railway tracks have been electrified.
Mentioning about the mantra of 21st century India, Shri Sonowal said that today's mantra is work for progress, wealth for progress, plan for progress and preference for progress and PM GatiShakti-National master plan will address all these issues.
Talking about the wide gap between macro planning and micro implementation the Union Minister said that the problem of lack of coordination always hamper construction and makes wastage of budget. He said that in 2014 when the current government came to power under the leadership of Prime Minister Shri Narendra Modi there were hundreds of stuck projects. PM Modi put all this projects on a single platform and tried to remove hurdles and because of this initiative many unfinished projects for decades are being completed, he added.
The minister informed that 16 cenral government departments including railways, roads and highways, power, shipping and others will be part of this GatiShakti initiative. GatiShakti will incorporate the infrastructure schemes of various Union ministries and State government and this master plan will also ensure quick completion of work with vast efficiency, he added.
---