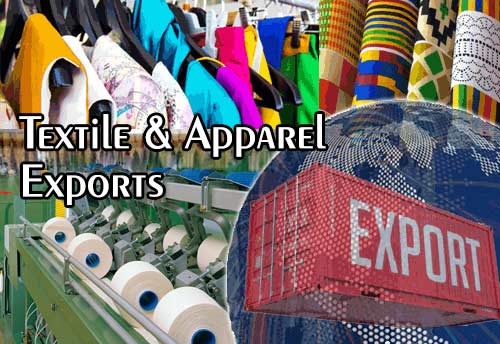 Tiruppur and Noida apparel exporters are in plan for periodic shutdowns
TIRUPPUR/NOIDA : Due to a lack of international orders, clothing exporters in Tiruppur and Noida have opted to close their manufacturing facilities for 10 to 15 days per month to decrease operating costs.
Post the recovery witnessed in textile exports in March 2023, April saw exports declining sequentially. According to data from ICICI Securities Ltd., a subsidiary of ICICI Bank Ltd., RMG exports declined 17 per cent Q-o-Q (down 23 per cent Y-o-Y) to US $ 1.2 billion, whereas exports for cotton yarn and home textile declined 13 per cent Q-o-Q (down 23 per cent Y-o-Y) with monthly run rate slipping again below the US $ 1 billion mark (US $ 0.8 billion).
In Tirupur, orders are down 40–50 per cent from last year, whereas 80 per cent of units in Noida have a month's worth of orders in hand. Global brands have not made any significant orders for the next Christmas season, according to Tirupur's exporters.
"We are now waiting for spring-summer orders for next year which are placed in September," said Raja Shanmugam, owner of knitwear firm Warsaw International.
More than half of India's knitwear exports come from the Tirupur cluster, Asia's largest textile export centre, and have been impacted by the downturn in important markets including the US and the EU. The Tirupur cluster has 30,000 units total, including ancillary ones as well.
According to preliminary data, Tirupur's knitwear exports rose 2.5 per cent annually to Rs. 34,350 crore in 2022–2023. With the exception of the pandemic, the growth rate was not only less than the historical tendency but also less than the nation's overall knitwear export increase of 3.76 per cent.
In the Noida apparel export cluster, nearly 70 per cent units have just a month's orders in hand. "Only the big units have good orders in hand but the medium and smaller units are suffering from very few orders. These units are working at 30-40 per cent capacity," said Lalit Thukral, President of Noida Apparel Export Cluster, which houses 3,000 units and exports readymade garments worth Rs. 30,000 crore.
Despite the lack of orders, the clothing exporting businesses in Tirupur and Noida have not yet made the decision to lay off any employees.